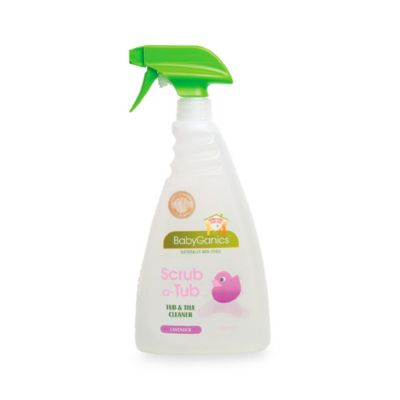 BabyGanics® 32-Ounce Lavender Tub & Tile Cleaner
They are made of natural ingredients, are contaminant free, use a non-aerosol pump to avoid chemical propellants, and have a natural lavender fragrance.
Created specifically for the growing family, BabyGanics™ eco-friendly products are safe around babies, children, pregnant women, pets and people with chemical sensitivities.
SKU # 16649376
BabyGanics® 32-Ounce Lavender Tub & Tile Cleaner
1
1
Love BabyGanics
I love the entire line of babyganics, but the scrub-a-tub is one of my favorites. I love that all the items are non-toxic and baby-safe, but this item makes me feel good because at every bath time, I take a few minutes to spray down the tub, do a little scrub and rinse it off before I put my little one in. It smells lovely and I feel better knowing her little toosh is sitting on a clean surface. Also, she has very sensitive skin and breaks out with a rash at everything she touches, babyganics has yet to give her any rashes, its mild enough for her, but cleans the surface at the same time. I can't recommend these products enough.
September 20, 2011
Related Searches:
Similar Products: