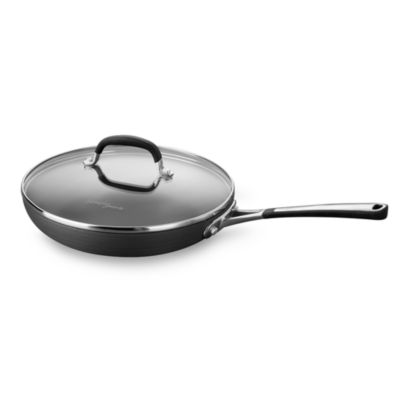 Simply Calphalon® Nonstick 10-Inch Covered Omelet Pan
Nonstick cooking surface coating ensures effortless food release and quick cleanups.
Contoured silicone and brushed stainless handle for comfortable and secure handling.
Included see-through cover is made of tempered glass, allowing you to safely monitor cooking progress even when lid is on.
Oven safe to 400° F.
Hand wash.
Imported.
Ten-year warranty.
SKU # 15094788
Simply Calphalon® Nonstick 10-Inch Covered Omelet Pan
28
30
Great little pan
This is a great little pan! Not too heavy, but heavy duty! Great non-stick coating. I use it all the time!
July 9, 2014
Same song, second verse
See my review of the eight-inch version; all praise holds for this larger size. Perfect!
February 13, 2013
10" Omelet Pan
Over my 40 years of cooking I have owned many different non-stick pans. Non-stick is not an accurate description of most of them. This is truly a non-stick pan! When one can cook eggs and have absolutely NO residue afterwards, it's nothing short of miraculous. This one pan is the workhorse of my kitchen. If you buy no other piece of Calphalon, make sure you buy this one. I have never written a review on any other product. This one deserves every single word!
December 10, 2012
Love it
Absolutely love it! I was Tired of my non-stick T-fall not working as I would like it to, so I decided to go for the Calphalon; This pan is great. Eggs are cooked perfectly and do not stick at all, the pancakes come out beautiful and again, do not stick at all. I am so happy with this product that I will continue buying Calphalon products in the future.
January 29, 2011
DON'T use steel wool!!
This was a great pan until my relatives from a remote region abroad came here and steel wooled the finish right off it the first time they used it! Off the OUTSIDE, TOO!!
January 12, 2014
love it
this is one of the calphalon pans i own... Iuv them all.. they heat up nicely clean easily.. cook evenly I've had some of my pans for a while... I always compare all other brands to calphalon and they never measure up... I want to get a grill pan next... which i could afford more!
October 4, 2013
Pleasantly Surprised
I had received this pan as a Christmas gift about 4 years ago. When I first saw it I was disappointed that it was not another brand. But I must tell you, when I need a nonstick surface for whatever I'm cooking at that time I am very happy with the performance of this product. The nonstick surface is still performing well, the long handle never gets hot, and the best feature, the clear lid is perfect for seeing what's going on in the pan without lifting and losing the heat and steam. Needless to say, the other brand was never bought again!
October 2, 2013
Fabulous!
Never again will I buy cheap pans!  This is THE BEST cookware I have ever used!  My husband didn't want me to spend the money (bought a 10 piece set 2 years ago) , but I did it anyway.  I cannot believe the difference. The pans heat and cook so evenly! This cookware makes a not-so- good cook a better one!  Thank you for making such a great product.  I just want one more piece. 
October 2, 2013
Related Searches:
Similar Products:
Also check out:
$99.99

$50 Bonus Gift card with $300 Calphalon Purchase

(46 Reviews)

$34.99

Exclusively Ours

(3 Reviews)

$49.99

$50 Bonus Gift card with $300 Calphalon Purchase

Exclusively Ours

(13 Reviews)

$49.99

$50 Bonus Gift card with $300 Calphalon Purchase

(36 Reviews)

$59.99

$50 Bonus Gift card with $300 Calphalon Purchase

$9.99 - $54.99

Exclusively Ours

(115 Reviews)
$79.99 - $129.99

Excluded from Pack and Hold

$79.99 - $129.99
(6 Reviews)