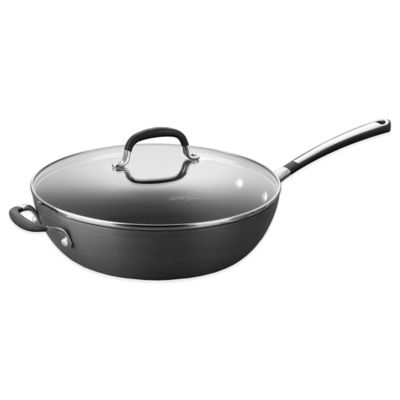 Simply Calphalon® Nonstick 12-Inch Covered Jumbo Fryer
Features contoured silicone and brushed stainless steel handles.
Oven safe to 350 degrees.
10-year warranty.
Hand wash.
SKU # 15813741
Simply Calphalon® Nonstick 12-Inch Covered Jumbo Fryer
77
90
Great for everyday use!
I love this pan!!! The size and shape is great for almost anything... pan-frying, braising, steaming or even stir-frying (like a wok). The clear lid allows me to check on status without opening and letting out all the steam/heat. Even though it is covered under a 10-yr warranty, I am on my 3rd one since I use my almost daily... The nonstick does scratch and wear off after a while, especially if you cook bone-in meats. I only wish Calphalon would offer this pan in ceramic nonstick, it would be the PERFECT everyday pan!!!
January 8, 2014
pan
I love this pan. I have 2 of them and I use them all the time.
April 20, 2012
Great Pan
Calphalon pots and pans are great, I have used many of brands and have thrown them away. Last I knew these are still made in the USA so with that and there quality Calphalon will be my choice.
March 28, 2014
Very Happy
I have been using Calphalon cookware for at least 6 years now. I just received the 12 inch fryer and 7qt Dutch oven. I put them both to work as soon as I got them!!! I can't wait to buy more. Always great release, great sear, cleans easy, looks great. Both are well constructed and feel heavy duty. Shipping was fast too!!
March 21, 2014
love it so far!!
I bought this pan because its a good general purpose size, and is quite versatile, I made a pot roast, browned the roast and veggies in pan and then put the lid on and right into the oven!! (of course I did some other prep as well)
January 20, 2014
My Go-To Pan for Almost Everything!
I am now on my second 12" Jumbo Fryer as I wore my other one out after using it so much! This is my Go-To pan for almost everything! If you like one-pot meals, this one will surely make your life easier! It cleans very easily and quickly and comes with a glass lid. For the $$$ - It is very much well worth the long-term investment! I even give these out as gifts!!!
November 4, 2013
Great product!
This Jumbo Fryer is of high quality and is exactly as described. Would stongly recommend to other people.
October 31, 2013
Awesome feature
I am very happy with my purchase, very useful.  I would recommend this product to everyone.
October 29, 2013
Related Searches:
Similar Products: