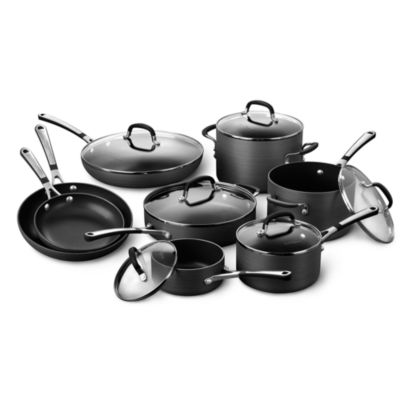 Simply Calphalon® Nonstick 14-Piece Cookware Set
Simply Calphalon® Nonstick Cookware is a must have for any cook
Nonstick cooking surface ensures effortless food release and quick cleanups
Cookware also features contoured silicone and brushed stainless handles for comfortable and secure handling
Oven safe up to 400° F
Included see-through covers are made of tempered glass, allowing you to safely monitor cooking progress even when lid is on
Set includes:

One 1-quart covered saucepan
One 2-quart covered saucepan
One 4-quart covered saucepan
One 3-quart covered sauté
One 6-quart covered stockpot
One 8" omelet pan
One 10" omelet pan
One 12" covered omelet pan

Hard anodized aluminum construction
Hand wash
10-year manufacturer's warranty
Imported
SKU # 15087943
Simply Calphalon® Nonstick 14-Piece Cookware Set
67
67
Great buy!!!
We love our Calphalon Nonstick pots and pans! They heat up evenly and are easy to clean.
October 27, 2014
Beautiful Set!
My husband and I received these as a wedding gift from my parents. The set has everything you need and is amazing quality. They have the perfect look too!
July 16, 2014
High Quality
We are very pleased with the Calphalone Nonstick 14 piece Cookware. Cooking is a pleasure and the fact that the pots are light in weight is a real bonus. Many a good meal is yet to come.
June 23, 2014
Great Pots
I received them as a gift about five months ago, and I cook a lot. They're great they heat up excellent so food cooks very evenly, and nothing sticks to them. I had non stick before and still managed to stick things all the time.
June 17, 2014
Best pots and pans I ever had
I received these as a gift from my bridal party and absolutely love them! This is the best set I ever owned. It is virtually impossible to burn anything in these pans and all they need is a spritz of olive oil to cook anything. Plus nothing sticks so its so easy to clean up (just need hot water to make sure all the grease falls off). Def worth the money.
May 23, 2014
Great Cookware
I've always wanted a set of Calphalon cookware. I bought this set and it lives up to my expectations. I only wish Calphalon would make their nonstick cookware dishwasher friendly. Don't get me wrong, it is easy to clean. But, there are just times when it would be nice to toss them in the dishwasher.
March 31, 2014
This product does all it was described to do
So far I'm very happy with how evenly the pans all heat and the ease of cleaning
November 21, 2013
Great Set!
I bought these for my wife as the pans we had were grossly overdue for replacement. We've used these for about 3 months now and they're outstanding. Clean up is a breeze, good even heating, and look nice. Like other comments have said, the pans do scratch easily and the handles do get hot, but it's close to the pan itself where the steel is exposed on the handle. Overall very happy with the set.
June 6, 2013
Related Searches:
Similar Products: