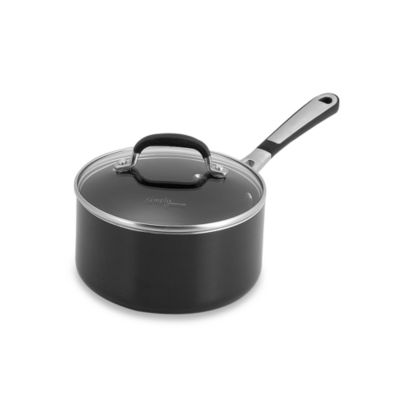 Simply Calphalon® Black Enamel Nonstick 2-Quart Covered Saucepan
Interior surface is double-coated with a sturdy, reliable nonstick coating
Exterior is durable porcelain enamel coated aluminum
Stay cool handles feature a comfortable, silicone grip, and the tempered glass lids let you keep an eye on your food as it is cooking.
For use with nylon, plastic or wooden utensils
Oven safe up to 400° F.
Delicious results, good looks, easy clean up and durability are built right in to this versatile cookware
Hand wash
10-year warranty
SKU # 16832049
Simply Calphalon® Black Enamel Nonstick 2-Quart Covered Saucepan
13
17
Lightweight
I've used Calphalon for many years, and love it. I purchased this pan for my daughter, who's just starting out. I realized that it wouldn't be as heavy as mine, but I was surprised at how lightweight it was: it will probably warp at the first overheat. I returned it for a heavier version.
January 2, 2014
Decent with some minor design issues
For years I have been a big fan of Calphalon's hard-anodized cookware, but this time I opted for this line because I wanted something more lightweight, less bulky, with lids and silicon handles. This was pretty much the only option out there that offered all that (esp. the silicon handles, which w/o become a burn waiting to happen). Overall, I like these, they are simple with a cleaner design line and the black enamel is a nice touch. What I don't get, and I've noticed before on other Calphalon lids, is that they angle the steel rim that goes around the glass in such a way that it traps any liquid (i.e. water from condensation, grease splatter or water when washing). This does concern me when cleaning as I don't feel confident that I can clean it thoroughly and it does hold onto food smells which makes me wonder if stuff is getting trapped in there that I can't see. It seems like such an obvious issue as you can see the water just swirl around the edge, never draining unless you can manage to set it on an absolutely perfectly level surface to air dry. So the only option is to dry by hand each time right away or else the water just sits in there. I have no idea why they are designed like this as the angle serves no purpose but to drive you crazy when washing.
September 19, 2013
A keeper!
I have been replacing cookware and purchased the Calphaon 2-qt. nonstick sauce pan & cover and have been totally satisfied with it's performance. It has become my favorite pan for everyday cooking. It is light weight, I like the grip of the handle, which is comfortable and not awkward as I have found some handles to be, and the non-stick feature functions wonderfully.
September 29, 2013
The final piece
Just received the last piece to complete my set and I am now ready for the Fall and all the cooking that goes with it!
September 13, 2013
Form and function
I've had an older model of the sauce pan for 5 or 6 years and I love it. It has withstood many years of daily use very well.
September 10, 2013
Great cookware!
I have purchased the entire set of this cookware. I really like it. It cooks evenly and never sticks. One hint: turn your heat down a little with this cookware. You don't need to use as high a flame with it if cooking with gas.
August 14, 2013
I was looking for a non-stick set of cookware and first bought another brand. While these pots worked very well they were much heavier than the Calphalon brand utensils. After purchasing these 2 pots I am able to use them with comfort as they are so much lighter than the others and they cook so evenly it makes cooking a joy.
April 27, 2012
Sauce pan
Found pan to be adequate but thinner and lighter weight than other Calphalon pans. Good non-stick pan but not the heavy duty quality I expected.
April 4, 2012
Related Searches:
Similar Products:
Also check out:
$29.99

$50 Bonus Gift card with $300 Calphalon Purchase

(5 Reviews)

$9.99

Beyond Value

(16 Reviews)

$39.99

$50 Bonus Gift card with $300 Calphalon Purchase

(34 Reviews)

$6.99

$50 Bonus Gift card with $300 Calphalon Purchase

(6 Reviews)

$39.99 - $59.99
(87 Reviews)

$9.99

$50 Bonus Gift card with $300 Calphalon Purchase

(4 Reviews)

$14.99 Each

$50 Bonus Gift card with $300 Calphalon Purchase

(4 Reviews)

$6.99

$50 Bonus Gift card with $300 Calphalon Purchase

(5 Reviews)
$12.99

Exclusively Ours

(4 Reviews)

$129.99 - $201.99

Excluded from Pack and Hold

$11.99

Free Standard Shipping

(7 Reviews)