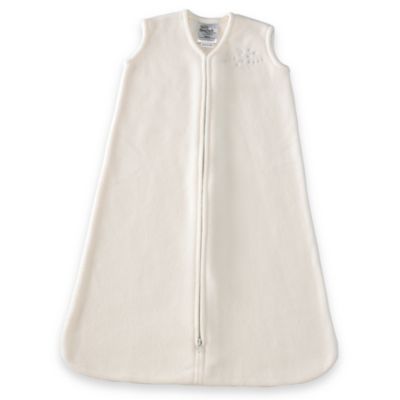 HALO® SleepSack® Large Micro-Fleece Wearable Blanket in Cream
Reverse zipper makes diaper changes easy and a special "Back Is Best" embroidered message reminds caregivers that on the back is the best position for a baby to sleep
100% polyester micro-fleece
Machine wash
Imported
Small fits ages newborn to 6 months, height range from 23" to 26", weight range from 7 to 18 lb.
Medium fits ages 6 months to 12 months, height range from 26" to 30", weight range from 16 to 24 lb.
Large fits ages 12 months to 18 months, height range from 30" to 35", weight range from 22 to 28 lb.
SKU # 15031913
HALO® SleepSack® Micro-Fleece Wearable Blanket
2
2
Favorite SleepSack
The HALO SleepSack Micro-Fleece Wearable Blanket is by far our favorite SleepSack (and we have tried many). My 8 month old son loves how soft and warm it is, and it is perfect for chilly winter nights! I have already ordered another in the next size up for the future.
November 3, 2014
Great product
This is a great alternative to blakets. I have used them for my 3 kids (the oldest being 1 1/2) and they know when we put their "sacks" on it is time for bed.
December 21, 2011
Related Searches:
Similar Products: