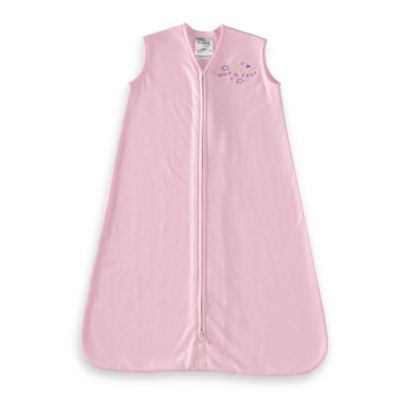 HALO® SleepSack® Extra Large Wearable Blanket in Pink
Reverse zipper makes diaper changes easy and a special "Back Is Best" embroidered message reminds caregivers that on the back is the best position for a baby to sleep
100% cotton
Machine wash
Imported
Small fits ages newborn to 6 months, height range from 23" to 26", weight range from 7 to 18 lb.
Medium fits ages 6 months to 12 months, height range from 26" to 30", weight range from 16 to 24 lb.
Large fits ages 12 months to 18 months, height range from 30" to 35", weight range from 22 to 28 lb.
Extra large fits ages 18 months to 24 months, height range from 35" to 40", weight range from 26 to 36 lb.
SKU # 15002310
HALO® SleepSack® Wearable Blanket
3
3
Little one loves his sleep sack
These are great for babies on warm summer nights. Diaper changes are a breeze and baby love wearing it. We plan to buy some fleece ones to get us through the winter.
November 3, 2014
Swear by this
Love the sleep sacks. We have used them since NB and now on medium size. It's easy to put on/take off and is made out of good material. My baby sleeps soundly in it and so do his parents because he doesn't have the danger of a blanket suffocating him.
May 25, 2013
Lightweight and great!
My daughter still gets cold at night but was too warm in the fleece long sleeved sleepsacks, so I bought these for her and they work great! Not only are they lightweight so I don't have to worry about her overheating, but she has a ton of room to kick her legs around so she doesn't feel restricted!
June 13, 2012
Related Searches:
Similar Products: