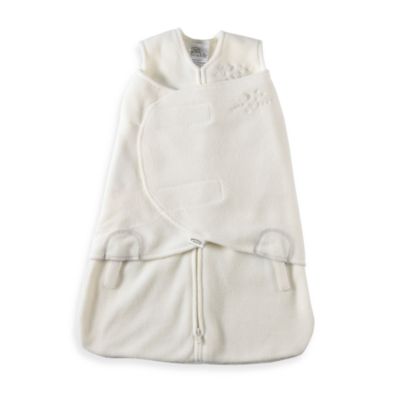 HALO® SleepSack® Small Swaddle Micro-fleece in Cream
The only 2-in-1 adjustable swaddle that allows for swaddling arms in or arms out for baby's comfort and to ensure an easy transition to the HALO® SleepSack® wearable blanket when it's time to stop swaddling
Used in hospitals nationwide, it is the #1 choice of hospitals, recommended by safety organizations and is approved as "Hip Healthy" by the International Hip Dysplasia Institute
A portion of every purchase goes to First Candle/SIDS Alliance
Use over regular sleepwear to take the place of loose blankets
Discontinue swaddling when the baby shows signs of rolling over or breaking out of the swaddle wrap
100% polyester micro-fleece
Size newborn fits 6-12 lb., size small fits 13-18 lb.
Imported
SKU # 17739816
HALO® SleepSack® Swaddle Micro-fleece
4
4
Stick to the regular sleep sack
I bought this sleep sack and a regular halo sack without the swaddle flaps. My advice is that if you want to swaddle your baby, buy the specially designed "swaddle me" blankets that Velcro. This sack when used as a swaddle has too much loose material. There is no velcro on the bottom flap so it can easily come loose and cover your LO's face (this happened to me). When the flaps are positioned in the back for use as a regular sleep sack, it makes for a lumpy and uncomfortable surface for your LO to sleep...and again, the flaps can come loose. Overall these are just too much material so you are better off buying the sleep sacks...just not the swaddle version like this one.
December 28, 2012
Best purchase
My son is 6 months old and has slept through the night since he was 9 weeks old - 11 hours at night. I have swaddled him since birth, the hospital he was born at used the halo. I credit his great sleeping to the halo. I put him in it and he knows that it is time to sleep , closes his eyes and out he goes. I love the halo system. I highly recommend it.
January 4, 2012
Love it!
My daughter is a wonderful sleeper, and I thank this product. We were taught how to swaddle using receiving blankets at the hospital. Newborns throw out their arms and wake themselves. However, I was worried about leaving her with a blanket that could come loose. On this sleepsack, the swaddle is connected to the back like wings. Put one arm down and pull a wing across. Put the other down and pull the second wing across. The velcro keeps it in place. You have to make sure that your baby's head and neck are at the top of the sack. If not, the collar touches their lips/cheek and they think it is time to eat! Our daughter has worn it every night since we have been home with her. She is now 8 weeks and is sleeping for 5-6 hour stretches. It calms her down. We have an extra and rotate them.
December 13, 2011
swaddle doesn't stay put
Not good for restless sleepers. The swaddle feature is not permanently attached to the sack, it just velcros on. This means that very strong and restless babies can get arms stuck or pull the swaddle part entirely over their face My baby did both of these. I didn't feel safe leaving her in this without supervision.
February 6, 2011
Related Searches:
Similar Products: