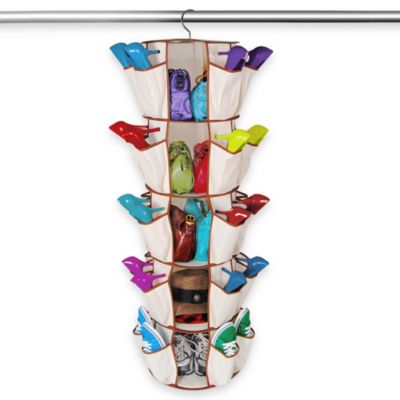 Smart Carousel Organizer
Tension loop technology gives the organizer its sturdy shape, while a 360-degree swivel hook makes it easy to access your belongings.
Spot clean.
Measures 13.2'' D x 49.2'' H.
SKU # 16751570
Smart Carousel Organizer
Is your closet your worst nightmare? Can't find the shoes that you need? Don't start another day frustrated and frazzled. Introducing the Smart Carousel Organizer; just spin and begin to finally win back the space in your closet. Find your things quickly and easily. The secret to the Smart Carousel is its unique steal tension loop shelves, a brand new technology available right now. Each shelf is as tight as a drum providing constant outward pressure, which creates the strength and stability to hold an amazing amount of your shoes and closet items. The Smart Carousel swivels 360 degrees, allowing you to organize, separate and protect all your belongings. It has five deep shelves and 40 full size pockets. That's more than 14 square feet of storage in just over a foot of space. With the Smart Carousel, there's no more rummaging through plastic bins, searching in flimsy bags or digging in messy drawers. Stay in style and coordinate your shoes with purses, sweaters, scarves and belts. You'll be ready to go in no time. Tired of toys, markers, crayons and craft supplies all over the house? Just spin and begin to organize your kids' favorite items with the Smart Carousel. Use it in garages, hallways, utility rooms, dorm rooms, baby nurseries and much, much more. You could spend thousands of dollars on custom closets, but the Smart Carousel provides fast and easy space instantly at a fraction of the price.
Smart Carousel Organizer
12
13
Smart Carousel Organiser
I purchased two and within 3 minutes of filling the 2nd one it fell to the floor . The hanger bent straight and tore right through the cardboard type circular the metal round reinforcement also bent. I took the sencond one down as it was about to do the same thing. After being so pleased. This great idea soon turned to frustration and disappointement. I would like to recommend it but can't as it is poor quality. Shoes are not light when they are packed together.
February 12, 2014
Stores 20 pairs of shoes!
Very happy with this carousel. It can also hold hats and purses.
December 4, 2013
Awesome!!
I have over 50 pairs of shoes and I was REALLY running out of room! Now I can putt off-season shoes in here and my hats as well. I love cute hats and have no room left for them; not that where I was putting the other hats made any sense. You can even put knee-high boots in the center portion; trust me I watched the video and you should too! Definitely a must-have for women with a shoe addiction! LOL
March 21, 2013
Daily Genious
This clever little gem is a unique way to pack all your daily necessities w/ an organizing punch, so you can fly thru your daily routine w/ the greatest ease. This product will never disapponit, unless you'd rather live in chaos!
September 14, 2012
think before you buy
this is just OK. its a great idea. but, think before you buy it. depends on the type of shoes you want to put in here. most of my heels are over 4 inches and they don't fit. i could only fit my small heels (and even that was a stretch) , flats and sandals. I'm really sad though that this didn't work my shoes - i think its a great idea and i love the middle section for bags, etc. try it out before you buy
September 3, 2012
Great organizer!
I just love this carousel organizer. It holds anything you want and the carousel makes it so easy to get to!
August 9, 2012
LOVE
LOVE this. It will be perfect for my walk-in closet in my apartment. NOT good for dorm closets though. From experience, this would take up way too much room. It would probably take up the entire closet in a dorm room. Found it for ten dollars cheaper at another store though...
July 30, 2012
Convenient and Handy Organizer
This is by far one of the best organizing purchases for my closet I have made. It stores my belts, purses, and shoes all in one. There is easy access to all sides because of it's spinning capabilities. The only downfall is that it is VERY bulky.
July 17, 2012
Related Searches:
Similar Products:
Also check out:
$29.99 - $79.99
(122 Reviews)

Twin $99.99 - Cal King $199.99




Twin $69.99 - Cal King $139.99

Clearance!

Exclusively Ours

(59 Reviews)

Twin $39.99 - King $54.99

Excluded from Pack and Hold

(4 Reviews)

Twin $9.99 - Cal King $19.99
(21 Reviews)

$9.99 Each

Beyond Value

Exclusively Ours

(28 Reviews)

Twin $39.99 - Cal King $79.99
(16 Reviews)