"Smart Carousel Organizer" is not available for sale online.
This item may be discontinued or not carried in your nearest store. Please call your local store to check in-store availability before heading there. For informational purposes, the product details and customer reviews are provided.
Related Searches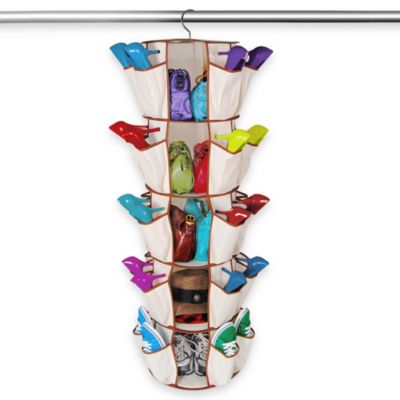 Smart Carousel Organizer
Tension loop technology gives the organizer its sturdy shape, while a 360-degree swivel hook makes it easy to access your belongings.
Spot clean.
Measures 13.2'' D x 49.2'' H.
SKU # 16751570
Smart Carousel Organizer
Is your closet your worst nightmare? Can't find the shoes that you need? Don't start another day frustrated and frazzled. Introducing the Smart Carousel Organizer; just spin and begin to finally win back the space in your closet. Find your things quickly and easily. The secret to the Smart Carousel is its unique steal tension loop shelves, a brand new technology available right now. Each shelf is as tight as a drum providing constant outward pressure, which creates the strength and stability to hold an amazing amount of your shoes and closet items. The Smart Carousel swivels 360 degrees, allowing you to organize, separate and protect all your belongings. It has five deep shelves and 40 full size pockets. That's more than 14 square feet of storage in just over a foot of space. With the Smart Carousel, there's no more rummaging through plastic bins, searching in flimsy bags or digging in messy drawers. Stay in style and coordinate your shoes with purses, sweaters, scarves and belts. You'll be ready to go in no time. Tired of toys, markers, crayons and craft supplies all over the house? Just spin and begin to organize your kids' favorite items with the Smart Carousel. Use it in garages, hallways, utility rooms, dorm rooms, baby nurseries and much, much more. You could spend thousands of dollars on custom closets, but the Smart Carousel provides fast and easy space instantly at a fraction of the price.
Related Searches