SnapBagger®
As Seen On TV
A simple bungee cord quickly and easily attaches an ordinary lawn and leaf bag to the powder coated steel frame
Simply sweep the debris into the bag or use it as a scoop to pick up mounds of yard waste
The handle locks together and can be used in 3 different settings depending upon your needs
It's ideal for leaves, grass clippings, shrub trimmings, pine needles or trash and can be used with any brand trash bag 39 gallons or bigger or use it with the eco-friendly reusable SnapBag™ (sold separately)
The SnapBagger® weighs approximately 3 1/2 lb.
so it is light and easy to maneuver
Measures 22" wide, 63" H x 1 3/4" D when fully assembled
Snaps together quickly and easily without any tools and includes a bungee cord
1 year warranty
SKU # 17817060
SnapBagger Yard Lawn Leaf Bagging Tool
Everyone loves a beautifully landscaped yard. But keeping it neat and tidy can be a real backbreaker, especially when bagging leaves. It's a real struggle to open a floppy plastic bag and fill it at the same time. Some try to bag leaves using the one-foot method, or the two-foot method. But both of these involve a lot of bending, stooping and twisting. Even using a trash can and scooping tool is painful and time-consuming. Now, there's an innovative new tool called the SnapBagger, to make yard cleanup quick and easy. Simply scoop the leaves right into the bag in one easy motion. It's fast, it's easy, and there's no bending over or touching the debris with your hands. Made of durable powder-coated sheet metal, the SnapBagger is still so light, it can be held with one finger.
Attaching a new bag is a snap. A bungee cord and track secures the bag. And the triangular head holds it open with a flat edge near the ground. In the scooping method, the SnapBagger holds and fills the bag in one easy step, and you don't have to touch wet, dirty leaves with your hands. Use the SnapBagger like a dustpan. On grass, you can rake in leaves, grass clippings, even difficult to collect pine needles. When the bag is full, simply drag it by the handle to the curb or compost pile. SnapBagger can also be used to clean up patios, driveways and sidewalks. Use it to sweep up dirt or trash of any kind. SnapBagger makes a perfect gift for the new home owner, the garden enthusiast, or anyone who wants to get the job done more quickly with less effort. The SnapBagger ships complete in a slender pizza-sized box, and the handle assembles with simple buttons, so there is no tooling required. To make yard cleanup a snap, order you SnapBagger now.
Related Searches:
Similar Products: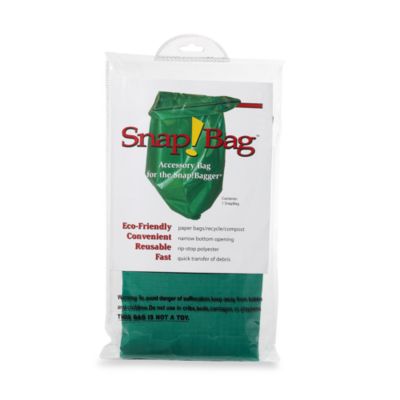 SnapBag™
The SnapBag™ is an eco-friendly reusable bag accessory that is designed specifically for the SnapBagger® tool. It features a quick-empty hatch at the bottom that allows for fast and easy transfers of waste into composters, dumpsters and cans.