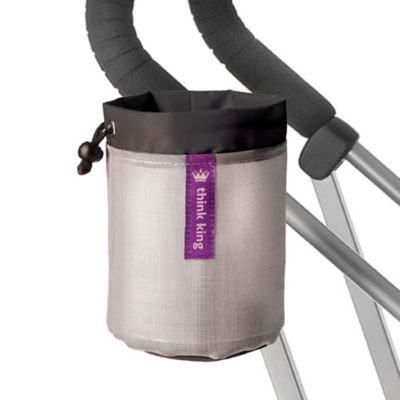 Soft Buggy Black and Silver Cup
Just like a third hand, it holds your drinks, keys, snacks and more by firmly attaching with easy on/off Velcro[R] straps.
It will not tip, shake loose or pop off and even flattens to fold with your stroller.
The top features a drawstring closure to keep all your contents inside.
Simply rinse to clean and let it air dry.
Measures 6" H x 4" in diameter.
SKU # 16525316
Soft Buggy Black and Silver Cup
3
3
Not For Cups
Will not hold a cup when attached to our Baby Jogger City Select. Slides down the side of the stroller and won't hold the weight of a cup. Thought it would be good for keys and phone but as it slides down it rotates and my things ended up on the sidewalk.
August 15, 2012
Handy, but too big
The cup holder is too big to securely hold any drink. I put a fountain drink in it, then proceeded to push the stroller down a sidewalk and because a) the holder is so larger and b) the 3 different pieces of velcro still don't get a solid grip on the stroller, the drink sloshed all over.
December 13, 2010
Best Cup Holder EVER!!
This is truly the BEST cup holder ever! It stays level on my umbrella stroller (The Britax Blink) and doesn't get in the way when I fold the stroller either. It's easy to attach and it does not pop off. If you want to place your cell phone, small change, keys etc. in it you can too. The Think King company hit a bullseye when they made this cup holder. LOVE IT! Best cup holder ever!
July 8, 2010
Related Searches:
Similar Products: