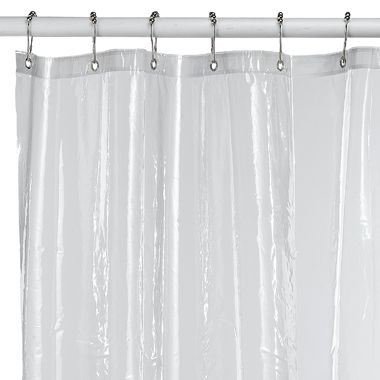 Soft Sensations™ Pure Clear EVA Shower Curtain Liner
It also has reinforced grommets and a weighted bottom hem, offering sturdiness and ease of use.
100% EVA vinyl.
Measures 70" W x 72" L.
Wipe clean.
Imported.
SKU # 14887059
Soft Sensations™ Pure Clear EVA Shower Curtain Liner
29
32
Very lightweight plastic BILLOWS.
This shower curtain liner is made of very lightweight plastic and it BILLOWS badly. The magnets at the bottom didn't stick to tub, so were no help. Back to the store for a refund and hopefully a heavier weight liner.
July 9, 2014
False advertising
Needed a liner that was 72 in long so I ordered this one. The one that came to me was 71 in long....doesn't work!!!
May 29, 2014
Great features
This is the first clear liner I have had and I love it. It is very pliable, has the little suction cups to attach it to the wall so water doesn't run out and I love being able to see the design of the shower curtain outside it.
April 25, 2014
Excellent shower liner
Magnets on the bottom secure the curtain, and there are also suction cups you could attach to the wall. Good liner.
March 12, 2014
Great for the price
This is a great deal but it does get mold build up on it after 6 months or so. I've been through about 5 of these but worth it for the price. Nothing lasts forever but it is light and is cheap enough to replace with the 20% discount coupon so worth it but needs to be more mold proof!!
October 30, 2013
'Beware If Chemically Sensitive'
I just installed these tonite. I purchased them due to the fact that they said 'Eco Friendly', PVC Free. I trusted that they would be environmentally safe. As soon as I opened the packages, I knew that there might be a problem. They had a very strong chemical smell, I am assuming that it is the 'Mildew Free' chemical used. While showering, my eyes burned, sinuses burned, and I felt shortness of breath. It has now been hours later, and I am still feeling these symptoms. If you are chemically sensitive, I suggest you seriously think twice before purchasing these. I would like to save anyone else, the very uncomfortable repercussions that I experienced.
July 6, 2013
Too new to review.
I recommend this because this brand makes liners to match their shower curtains. The right size and material go well together .
July 4, 2013
GREAT Shower Curtain
I was skeptical when purchasing the shower curtain because it said "no odor". However when it arrived I was able to immediately put it in my guest bathroom because it had "no odor". I was so pleased not only with the odor issue but the quality of the product and how thin and non-bulky it was. I would highly recommend this shower curtain.
May 22, 2013
Related Searches:
Similar Products:
Also check out:
$9.99

Exclusively Ours

(16 Reviews)

$10.99

Exclusively Ours

(14 Reviews)

$12.99

Exclusively Ours

(9 Reviews)

$14.99

Exclusively Ours

(2 Reviews)