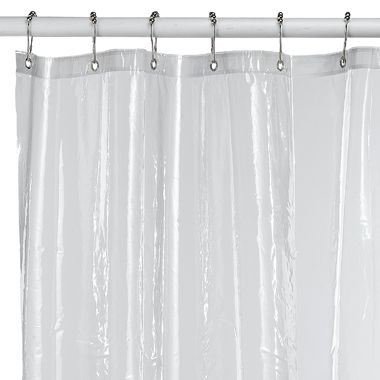 Soft Sensations™ Pure Clear EVA Shower Curtain Liner
It also has reinforced grommets and a weighted bottom hem, offering sturdiness and ease of use.
100% EVA vinyl.
Measures 70" W x 72" L.
Wipe clean.
Imported.
SKU # 14887059
Soft Sensations™ Pure Clear EVA Shower Curtain Liner
33
36
Sturdy Liner
I have bought these many times and they last a long time and wash well.
November 3, 2014
Product has great features.
Like the features on this shower liner of the suction cups and the magnets to adhere to the shower stall.
September 23, 2014
Clearest clear liner
While it is very lightweight, which bothers some, I love this clear liner and use it as a shower curtain in four bathrooms. It gives the illusion that the rooms are bigger (especially compared to colored or opaque liners or curtains). For the five minutes a day the liner is used by guests, it is fine. Try it and see. The suction cups don't work too well in my application, but moistening the edge of the liner can temporarily glue it to the tile. No problem!
September 15, 2014
Sabrown
Shower liner was not as heavy duty as I expected but it does the job.
September 12, 2014
Very lightweight plastic BILLOWS.
This shower curtain liner is made of very lightweight plastic and it BILLOWS badly. The magnets at the bottom didn't stick to tub, so were no help. Back to the store for a refund and hopefully a heavier weight liner.
July 9, 2014
False advertising
Needed a liner that was 72 in long so I ordered this one. The one that came to me was 71 in long....doesn't work!!!
May 29, 2014
Great features
This is the first clear liner I have had and I love it. It is very pliable, has the little suction cups to attach it to the wall so water doesn't run out and I love being able to see the design of the shower curtain outside it.
April 25, 2014
Excellent shower liner
Magnets on the bottom secure the curtain, and there are also suction cups you could attach to the wall. Good liner.
March 12, 2014
Related Searches:
Similar Products: