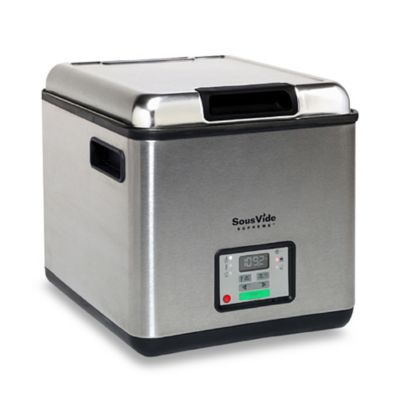 SousVide Supreme™ Temperature Controlled Water Oven
Just season your dish, vacuum-seal it in food-grade pouches, simmer in the water oven, sear or sauce your dish if desired and serve.
The SousVide™ Supreme method of cooking helps pack in all those lost nutrients that conventional methods tend to remove during their processes, thereby offering you a way to serve food with all its true flavor intact.
Easy to use, the SousVide™ has a one-touch precision LED control panel for setting temperatures and times.
Includes detachable power cord, a perforated bottom grill designed to generate thermal turbulence, and a stainless steel rack to separate food bags.
110-120 volts.
Holds 11.2 liters.
ETL listed.
Measures 11 1/4" W x 14" D x 11 1/4" H.
Model #SBB-100S.
Vacuum sealer and bags sold separately.
SKU # 17748459
SousVide Supreme™ Demi Temperature Controlled Water OvenWith its sleek compact design, a patented PID controller, easy to use digital LED display and a professional nine-liter capacity, the SousVide Supreme Demi is where precision finally meets perfection.

Simply vacuum seal (SousVide Supreme Vacuum Sealer shown in video) your favorite foods to lock in and infuse flavors and nutrition. Select the precise temperature you want to cook your food at. The SousVide Supreme Demi is accurate to within one degree Fahrenheit.

Once your food is cooked, it can remain perfectly held in the SousVide Supreme Demi, it can remain perfectly held in the SousVide Supreme Demi for hours giving you the power to decide when you're ready to eat guaranteeing you consistent, perfect results every time you cook.

Breakfast, lunch and dinner are now ready at the simple touch of a button. Foods cooked in the SousVide Supreme Demi develop flavors and textures that simply cannot be duplicates using any other cooking method.

It's so easy to use and almost impossible to overcook food. Just sit back, relax and let the SousVide Supreme Demi do the work for you.

The SousVide Supreme Demi, where precision meets perfection.
SousVide Supreme™ Temperature Controlled Water Oven
6
6
Works as promised!
Easy to use and works as advertised. The first two items (brisket and double thick chops) I attempted turned out very tender, juicy and delicious. Every kitchen should have one!
July 21, 2014
Amazing!
Just when you thought you had every handy dandy device in your kitchen, you find out about Sous Vide. It will require practice but it is well worth it. You have to change the way you think about cooking. It is fun, astonishing, and easy. The vegetables are tender, beautiful and fresh. The meat comes out the exact way you like it. Now I know how the high end restaurants accomplish it. They have a bunch of sous vides running and they sear as the final touch. One of the best parts is that clean up is a breeze! Go for it but be prepared to relearn and practice. Then you are ready to amaze your friends.
July 15, 2014
Learn to Use This ASAP!
Purchased this item for myself. Then purchased another one as a gift. Intend to purchase a third one soon. This is a remarkable way to cook meat. Turns out perfect every time. There is a learning curve but once you understand the process, you will be amazed at the quality of the food that you can make with it. We served steaks to 20 people at the same time and everyone raved about how tender and delicious the steaks were. Fish, beef, chicken, pork, venison just to mention a few...all marvelous!
February 14, 2013
LOVE!
The best kitchen appliance I've ever bought! I love this. I can sous vide through the weekend and have a fridge/freezer full for quick week night meals.
December 29, 2012
Great Purchase
The SousVide Supreme is fabulous when cooking for a crowd or just for one. Steaks, fish, and vegetables come out perfectly each and every time. I am so glad I decided to purchase this. I prepare more than I need and my freezer is full of ready-to-eat meals for busy days when I don't have the time or energy to cook. Great purchase.
November 22, 2012
Restaurant Quality Equipment
Having cooked professionally a lot of equipment doesn't "translate" well into the home. Functionally weak, not useful, too complicated etc. The SousVide Supreme stand out as a quality piece of equipment that delivers professional results. Easy to use and perfect in execution. This is a must have for the serious home cook.
November 1, 2012
Related Searches:
Similar Products:
Also check out:
$24.99 - $29.99
(49 Reviews)

$80.99 Each

Excluded from Pack and Hold

$20 Manufacturer's Rebate Available

(195 Reviews)
$34.99 - $59.99
(62 Reviews)

$18.99

Free Standard Shipping

(1 Review)

$5.39

Excluded from Pack and Hold

Price reflects 10% instant rebate

(42 Reviews)

$5.39

Excluded from Pack and Hold

Price reflects 10% instant rebate

(26 Reviews)

$89.99

Excluded from Pack and Hold

$20 Manufacturer's Rebate Available

(48 Reviews)

$99.99

$50 Bonus Gift card with $300 Calphalon Purchase

(15 Reviews)
$17.99 - $29.99
(10 Reviews)

$2.99

Clearance!

Exclusively Ours