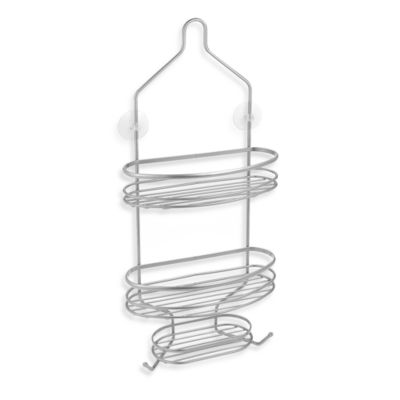 Spa Creations Three-Tier Shower Caddy
Includes two suction cups and one silicone hanger to secure to showerhead.
Measures 10 1/4" W x 4 3/4" D x 23 1/2" L.
SKU # 17841050
Spa Creations Three-Tier Shower Caddy
19
20
Very nice!
This is a very attractive shower caddy with plenty of practical space. I read reviews re: a problem with rusting, so I brushed clear nail polish on all the joints where rust would form. It took awhile and I let it dry for a day, but I haven't had any rust at all. I liked this so much I bought another one that's similar in a dark color. I like the nickel best however. Also, it doesn't slip off the shower pipe. A good buy!
July 6, 2013
Love the look
I really love the look and quality of the shower caddy, but the two suction cups intended to stabilize the caddy and keep it straight do not work...I have a tile shower and you would think it would be the perfect surface for them to stick to but they don't, so it hangs a little sideways, which I don't like at all.
May 9, 2013
Top quality
This is very sturdy, looks expensive and stays put. What more could you ask for.
April 4, 2013
PLEASE....Don't wast your money!!!
This shower caddy rusted two mos after purchase. I was so excited to find a semi upscale shower caddy to match the style and decor of my bathroom. Only to be upset after seeing rust drip down the tiles in my shower. It is rusted in all the joints. It needs to go in the trash, wish I still had the receipt!
September 17, 2012
Does The Job
This shower caddy has some pros and cons to it. The pros are that it fits nicely on my shower's "nozzle" and has plenty of space to store my shower needs. The cons unfortunately outway the pros, which are: the middle shelf does not have enough space (height wise) to store larger bottles of shampoo (think Pantene Pro-V size), the soap when placed on the bottom shelf is under a constant stream of water and so we go through soap faster, and even though it comes with suction cups, they're really of no use because they barely stick to our shower's walls. All in all, if I did it again...I'd probably search for a different shower caddy.
August 23, 2012
Rusted & busted
After about 5 months of hanging in our shower, the joints where the shelves attached rusted causing the bottles to fall. The momentum then caused the rack to come crashing into the tub. I was hoping the coating would prevent it from rusting or atleast slow the process. Not so.
August 20, 2012
We like it
We like this product; Seems durable, stays put. It holds lots of items, but the second shelf is only tall enough for short items. All the shampoo bottles have to go on the top shelf or lean over on the second shelf. We like it anyway; maybe could have been better designed.
June 10, 2012
It's okay
The suction cups don't stick to the tiles but luckily it's pretty good about staying in place. I wish the top shelf was lower as there's needed space wasted because you can't put anything underneath the shower head. You can just put a bottle on either side of the shower head. The seal on the metal is very poor. I haven't had mine for long and it's already rusting on the metal under the shelves.
June 2, 2012
Related Searches:
Similar Products:
Also check out:
$39.99

Excluded from Pack and Hold