Spectrum™ Euro™ Mug Tree
Measures 15 1/8" H x 6 3/4" W x 6 3/4" D.
SKU # 13696578
Spectrum™ Euro™ Mug Tree
13
14
Great tree mug holder
I love this design. Fits 6 normal sized mugs perfectly. Won't tip over. Super sleek and just the right size to fit in a small space. Great product for the price. Would definitely buy again.
November 7, 2014
Simple and Sleek
This tree works well next to our Keurig! I would advice people not to purchase over-sized mugs, because they won't necessarily fit together on the tree. Technically, they fit, but it looks cluttered. Simply use it for small/medium sized mugs and you'll be set. It works very well and is very functional. Looks great, too!
September 12, 2014
Outstanding
I bought this mug tree for my new heavy coffee mugs. This mug tree is heavy duty (not flimsy at all). It was bigger than I thought it would be; however, it is perfect for my kitchen. It holds six heavy coffee mugs without a problem. I am going back for the banana holder next!
December 14, 2013
Sturdy and Attractive
This has been one of my favorite pieces in my kitchen. It is extremely well made and I don't hesitate to place the most fragile and delicate mugs on it!
August 15, 2013
This was bigger than I expected and it looks great!!
November 16, 2012
Mug Rack
I just renovated my entire kitchen, out with the old and in with the new. This is one item that I brought two because it is so well made. Goes with my new Fridge and Stove (Aluminum appliances) and has nice clean lines that do not distract from my beautiful cups and mugs. I would love to insert a picture but that is not an option.
October 8, 2012
Absolutely love this mug tree!
I have large, oversized mugs, and this mug tree handles all 6 of them perfectly...cannot be happier with it!
August 24, 2012
Great mugtree
This is the strongest and best mug tree I have every had. It holds the cups securely and with plenty of space for each to hang.
August 18, 2012
Related Searches:
Similar Products: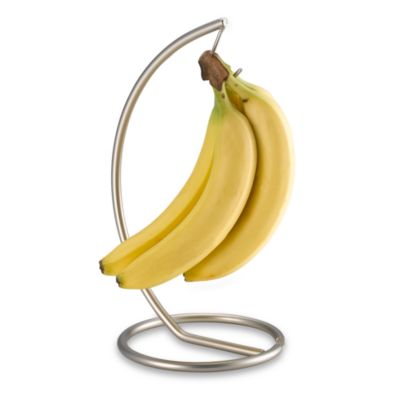 Spectrum™ Euro™ Banana Hanger
Price:
$9.99
Brand:
Spectrum
Keep bananas neat and off your countertop with this contemporarily styled banana tree. Sleek curves and a chic satin nickel finish make it an attractive addition to your kitchen decor.