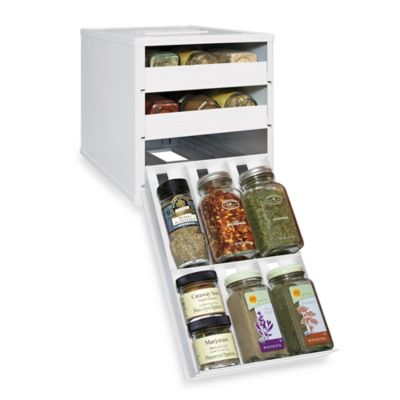 YouCopia® SpiceStack®
Includes 48 pre-printed and 48 blank labels for the outsides of the drawers
Stackable
Made of durable plastic with non-skid rubber feet
Measures 8" W x 10 3/4" D x 8 1/2" H
Fits round or square bottles
Spices not included
SKU # 17621912
Spice Stack
Hello, my name is Michelle from Bed Bath & Beyond and I'm here to tell you about the Spice Stack.

I love how simple it is for me to organize my entire spice collection inside my kitchen cabinet. Now I can actually see and find all my spices. Simply pull out the drawer until it's fully extended. Then angle the drawer for easy access to your spices.

This compact unit holds 18 full or 36 half size bottles of your favorite spices. Because it fits in virtually all kitchen cabinets, it also saves you valuable space.

For more organization, the Spice Stack includes 48 pre-printed and 48 blank stickers so you can label the outside of the three drawers! Have lots of spices? Multiple Spice Stacks can be placed side by side or stacked on top of each other.

The Spice Stack is available online and at a Bed Bath & Beyond store near you.
YouCopia® SpiceStack®
60
66
Found new use for more
Works great in 12 in cabinet BUT also___ GREAT for storing and sorting K cups of coffee. Each tray holds 12 and label lets you find the coffee/tea you want.
October 2, 2014
Great Space-Saver!
What a great idea! I went through so many difference spice racks before I stumbled across this gem at a BB&B store. I was constantly searching for spices when cooking and baking and now they're all at my fingertips. I have two of these now and use them both.
September 19, 2014
Find Spices Quickly
Gone are the days that I will have to dig through the cabinet to find the spices I need. The Spice Stack makes cooking prep so much faster. The only negative aspect I have discovered is that the pre-printed labels that come with it don't stay stuck to the stack very well.
January 25, 2014
Small kitchen spice storage solution
After having my kitchen cabinets refinished, I wanted to upgrade my spice storage from turntables to something more state-of-the art. After two failed attempts, I finally found the solution that I'd been looking for--Spice Stack(s). Not only did they fit perfectly in my narrow kitchen cabinets, but they even hold larger spice bottles in the back of the rack.
November 7, 2013
Great organizer
Very pleased with product, instantly organized cabinet and freed up space. Easy to use, sturdy construction, and stays put.
July 31, 2013
GREAT space-saver!
We recently got a WONDERFUL deal on a beautiful home - except for the limited pantry space! This amazing little shelf holds SO many spice bottles - all but the really BIG ones (I normally only get things like onion power and celery salt in those sizes) - small to medium fit just fine. I just paired it with the "stick-on" clamps on the inside of the door and everything fits in one cabinet! Great use of space!
June 18, 2013
Love it!
I love this spice rack. I alphabetized my spices and it is so easy to pull out the trays and access.
April 4, 2013
Love!
I got this spice rack, for the drop down feature. I absolutely love it. It is so easy to use. And I love that it can be labeled so you can find your spices easier! I even bought one for my mom!!
January 25, 2013
Related Searches:
Similar Products: