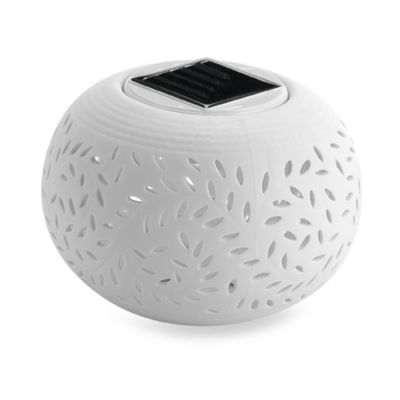 St. Petersburg® Solar Color Changing Porcelain Light
One light is white and the other changes color so you can choose the lighting based on the mood.
Hole in the bottom of the holder allows you to add a tealight candle, and on the bottom of the solar panel is a three-way switch to choose from white, off and color changing light.
Operates up to 8-10 hours on one full charge.
Includes one 'AA' NiMH rechargeable battery.
Measures approximately 6" in diameter and 4 3/4" high.
Model # TM1218P-1W3U.
SKU # 16977527
St. Petersburg® Solar Color Changing Porcelain Light
7
8
like product but need replacement solar panels
i purchased ten of the lights for my walk. Only five of the solar panels work.I have switched from white to color but they stilll don't work regularly. I would be happy to purchase replacement panels but can't find on BB&B web site
July 3, 2014
Solar light
This is a very pretty addition to the sun room. It can display as all white or change colors.. I would recommend this product.
May 8, 2013
Great value & ambience
First saw these when visiting friends in Germany and thought they we so neat. When we returned & I found them on BB&B I was thrilled. They add great ambience to the patio & are relaxing to watch changing colors - one fell & broke I ordered several replacements to always have them & maybe for gifts. They last a long time.
October 8, 2012
Wonderful lights at night
I love this solar light. It stays lit for a very long time and is absolutely beautiful. I especially like that I can set it on just white light or the colors. So great
February 29, 2012
fun, but not super sturdy
My kids LOVE watching this. They'd give it a 5-star. I agree with the reviewer who said it is quite lightweight and should be stored between uses rather than left to blow off a patio table. I don't love the way you have to take the lighting unit in and out to switch it on and off. (I have small hands and still can't quite reach my fingers into the base to turn the light on/off without taking the top unit out.) But for the cost, it's a fun addition to a patio table.
October 19, 2011
Excellent color changing light - Very pretty
This is a very decorative outdoor piece, mainly at night since that's when it lights up. It changes colors very well and quite brightly. The colored light shines through the ceramic design and spreads out around it giving a slight scattered effect that is very nice on a tabletop. I placed mine on a small glass plate that diffuses the light even more! I'm very pleased with this as the colors are very bright and beautiful as they change, and the white ceramic is attractive too. It charges well and will run all night after each full day of sun.
April 20, 2011
Beautiful!
I bought four of the St. Petersburg Solar lights for my deck. The colors are beautiful. The lights add great ambiance to my parties. However, the one issue I noticed is the porcelain isn't very heavy. I'm concerned about a strong gust of wind blowing these off the tables. We'll see what happens. Regardless, I'm glad to have purchased these lights.
April 11, 2011
Related Searches:
Similar Products: