Kamenstein® Stainless Steel 20-Jar Filled Revolving Spice Rack Tower
Spices included are basil, crushed mint, parsley, oregano, celery salt, dill weed, rosemary, whole allspice and much more
Measures approximately 8 1/2" L x 8 1/2" W x 13 1/4" H
Jars are dishwasher safe
This product is eligible for Kamenstein's Free 5-year Spice Refill Offer. Pay only Shipping & Handling. See package details for offer terms and conditions.
SKU # 13076944
Kamenstein Spice Racks and Spices
Get ready to add a little more spice to your life. Spices are an integral part of any chef's culinary arsenal, but did you know that there's a way you can refill the jars in your spice rack for free? Kamenstein is offering free spice refills for five years on specially marked spice racks and grinders, and we're talking about the good stuff. Kamenstein has been packaging the finest quality spices in the world for over 60 years. These flavorful spices are professional harvested from some of the most exotic locations around the world. Kamenstein spices go through rigorous quality control checks. They are inspected and packaged in an FDA licensed facility right here in the United States. This ensures the highest quality and freshness so you can feel confident that you're using the best gourmet spices at every meal.
Kamenstein® Stainless Steel 20-Jar Filled Revolving Spice Rack Tower
21
23
Great mixture
It has a lot of different spices and the mixture is really great. It also looks really good with stainless steel appliances.
September 8, 2014
Product was subpar
Out of the 20 spice jars provided 7 of the sprinkle inserts do not snap on tight leaving this feature of no use. An additional jar was broken around the screw on cap, leaving me to wonder is their glass in my spice. Would not recommend this without unsealing and checking every jar before purchase. Most of the jars not seem like they will hold their plastic sprinkle insert on well. Live and learn.
August 28, 2014
Love this thing!
I love that I got to venture into trying other spices! I love the herbs de provence. This is awesome because you get the refills for free for five years and just pay shipping.
August 28, 2014
Great Set
This spice rack is great. It has a nice variety of spice options. It's super large, so it doesn't take up too much space.
August 25, 2014
But what about garlic?...
This spice rack is very stylish and attractive to look at. I agree with many other reviewers that many of the spices on here I probably won't use, even though I love spices and my husband and I have LOTS of them. One person mentioned that it didn't come with parsley or basil, but mine did. So I wonder if different shipments may contain different spices to a degree? I kind of wish it would have 4 empty slots/jars for me to put my own spices in. The reason we got this was because we literally had 30 some spices and no where to put them. Although this is pretty, it didn't really solve our problem. I may actually dump out some of the spices I know I probably won't use and put other things in them. I found it strange that it didn't come with any type of onion or garlic. I feel those are two fairly large staples in cooking.
August 14, 2014
Comes with all the spices you wont ever use.
I love the style. When you have a small kitchen, you need counter space. This solves the problem, however the space for the bottles are smaller than the average spice jar. Only their brand jars will fit. The spices that came with it I never use. Mint, "pizza seasoning", "italian seasoning", "herb de whatever". They didn't even come with basil, parsley, cumin, red peppers, none of the basic herbs you'd imagine would come with it. All in all it's alright. But you either have to buy more jars or re label the jars and put the other herbs in plastic baggies in order to put your own spices in it.
June 8, 2014
Beautiful Set
I love this new set and getting free spices for 5 years is a great bonus. It turns easily, has nice smooth, clean looking jars that will be easy to keep clean. A few spices I won't use but not a concern. A bit on the large size, but very sharp looking in the kitchen. I recommend this to anyone wanting a big set of spices in a smooth turning easy to clean stand!!
March 31, 2014
We got this off of our wedding registry. There are a lot of spices on here, including several that will rarely get used, if at all, but we also found that there are quite a few spices that we use on a regular basis that are not included that was rather disappointing.
February 9, 2014
Related Searches:
Similar Products: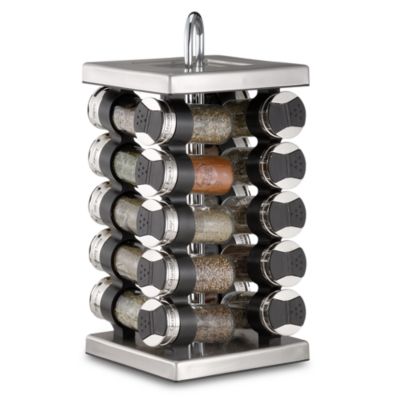 Stainless Steel 20-Jar Spice Rack
Price:
$49.99
Brand:
Olde Thompson
Categories:
Kitchen > Kitchen Organization > Spice Racks
Attractive stainless steel spice rack holds 20 of the most popular gourmet spices such as thyme, oregano, paprika, poppy seed and more. Each glass jar holds three ounces and has a flip lid to allow easy pouring or shaking.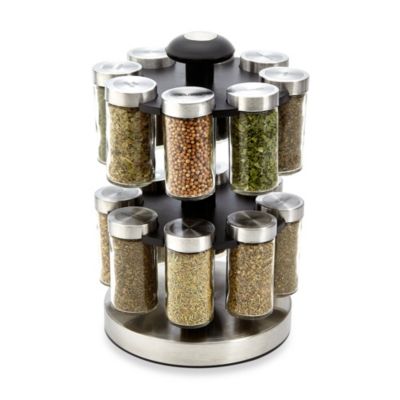 Kamenstein® Lexington 16-Jar Spice Rack
Price:
$39.99
Brand:
Kamenstein
Categories:
Kitchen > Kitchen Organization > Spice Racks
With a two-tiered revolving design the Lexington spice rack holds 16 jars without sacrificing excessive counter space. The glass jars with chrome lids come filled with Kamenstein's premium spices.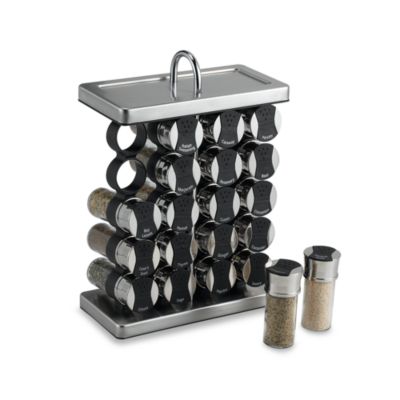 Olde Thompson 20-Jar Spice Organizer in Stainless Steel
Price:
$49.99
Brand:
Olde Thompson
Categories:
Kitchen > Kitchen Organization > Spice Racks
Variety is the spice of life and this spice organizer inspired by the classic lines of a wine rack will keep you adding a dash of something flavorful and new meal after meal.
Also check out:
$34.99 - $59.99
(101 Reviews)
$179.99 - $249.99
(9 Reviews)