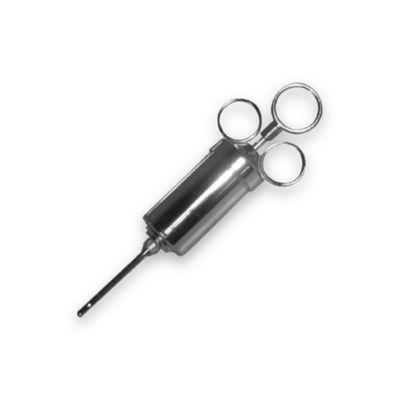 Marinade Injector
Made of heavy-duty metal, flavor injector is durable and lasts for decades.
Hand wash.
SKU # 13876495
It works!
Like: all stainless steel, safe "needle", extra o-ring, and it just works! Dislike: none! Summary: this is an old style flavor injector. Very solid construction with no plastic parts. The "needle" end is actually rounded, it is very safe. There is even a spare O-ring for the plunger. I suspect the O-ring is a standard size one, so replacement can be found at a local hardware store. Also, the finger loops are designed for one-hand operation, even to pull liquid into the injector. This is a proven design in old-style medical syringes, as well. All-in-all, this is an excellent purchase. I highly recommend this flavor injector to anyone who is looking.
May 29, 2012
Related Searches:
Similar Products:
Also check out:
$14.99

Exclusively Ours

(2 Reviews)
$11.49

Free Standard Shipping

(62 Reviews)
$189.99

Campus Collections are not eligible for coupon use.