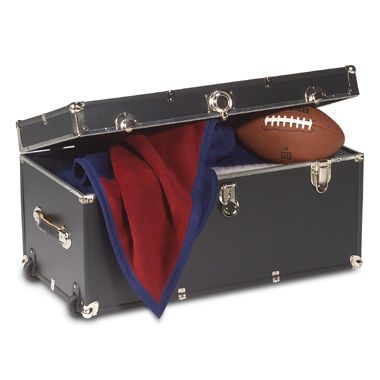 FirsTime® Storage Trunk With Wheels
Features easy roll wheels for mobility and a lined interior to protect clothing and other stored items
It also has leather handles on the black storage trunk
The trunk is made of wood with a vinyl coating and paper lining
31" L x 17" D x 15 1/4" H
SKU # 12112270
FirsTime® Storage Trunk With Wheels
11
12
Excellent for college dorm room
I bought this for storage for my son's dorm room plus moving things into the dorm. Roomy, easy to move on wheels and fits into any dorm room decor.
September 14, 2014
College Trip
This is the perfect packing/storage item for any year college student. It functions as a packing container, then as storage unit, once in the dorm room. The trunk locks for added security. Great gift.
August 12, 2014
This product has great features
The storage trunk is strong and sturdy. Well made but the latch was a little small.
August 11, 2014
Stoage Footlocked Trunk
Footlocker is roomy, light weight, and easy to move around. The workmanship is good for the price as long as you understand this is for storage and not for constant hauling from one city to another by contract carrier or frieght handlers. This product is very useful as a storage unit. The walls of the container are sturdy but be aware of the thickness. The sides are not impenatrable so some care is to be taken when moving and stacking items on top of it. I have purchased several of these units.
August 4, 2014
This product is just what we wanted
Super ...good Quality good Price. Perfect for the Dorm Room
August 4, 2014
Great trunk!!
The wheels are great. Very sturdy construction. Love the reinforced corners. Roomy too! Lover it. Very good quality.
July 30, 2014
Awesome
Can't wait to order more soon, works perfectly for what I put in it. Perfect for moving!
July 30, 2014
sturdy, attractive trunk
Shopped many places for a storage trunk for my son's dorm and was fortunate to have chosen the best trunk; excellent price - lower than elsewhere. I am very satisfied with this product and do not hesitate to recommend it.
June 2, 2014
Related Searches:
Similar Products: