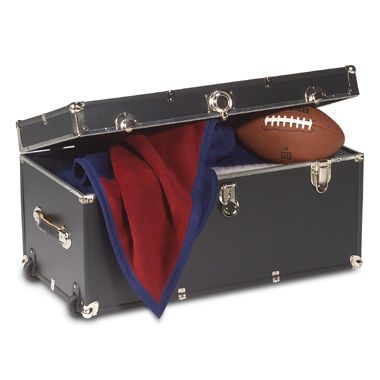 Storage Trunk With Wheels
Features easy roll wheels for mobility and a lined interior to protect clothing and other stored items
It also has leather handles on the black storage trunk
The trunk is made of wood with a vinyl coating and paper lining
31" L x 17" D x 15 1/4" H
SKU # 12112270
Storage Trunk With Wheels
4
4
sturdy, attractive trunk
Shopped many places for a storage trunk for my son's dorm and was fortunate to have chosen the best trunk; excellent price - lower than elsewhere. I am very satisfied with this product and do not hesitate to recommend it.
June 2, 2014
Great Find
I bought 2 of these trunks for my children to take to camp and I'm so glad I found them. I searched quite a bit and where some trunks of the same size cost around 150, I found these for more than half the cost. I do wish there was more of a color selection but the black does have a classic look so I am pleased! The top opens easily, the wheels run nicely, this is a quality MADE IN AMERICA product. They came shipped in a box with a little cushion so they arrived at my front door in perfect condition. I will invest in pad locks for the trunks when it's time to send the kids to college, but for now the latch with turn key is fine.
May 5, 2014
Love it!
I have always wanted a vintage trunk to put trinkets and photo albums in and I finally found one worth the price. I was so excited when I found it I ordered my little sister one to for college in the fall. Thank you BBaB for providing quality products at an affordable price!!
March 18, 2014
Great storage trunk!
This is an awesome trunk to store all of my son's coloring/activity books, crayons, markers, paints, caddies holding pencils, glue, scissors, erasers--- you know, all of the things that look so sloppy if untidily kept in baskets. We even keep schoolwork/projects in here as we are working on them, so that they don't get anything spilled on them on the table or chewed on by the pets! It is well made(also, actually made in the U.S.A.) and I think it will serve him well in other ways for years to come. Lightweight with wheels is a big plus, too ! I recommend it.
September 16, 2013
Related Searches:
Similar Products: