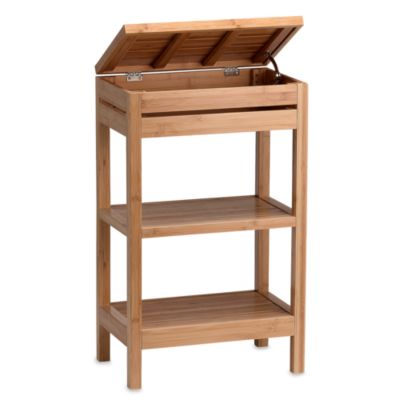 Bamboo Floor Cabinet
This floor cabinet, made from natural, solid bamboo, has a modern, squared edge design and offers plenty of attractive storage space for you to store and display your items.
Two ample shelves let you store items in sight and close at hand, while the unique hinged top lifts up for out of the way storage.
Measures 30" H x 18" W x 11 1/2" D.
Some assembly required.
SKU # 16249823
Bamboo Floor Cabinet
10
10
Okay if you're handy
Just finished putting this together... I was intrigued by some of the horror stories, but I'm familiar with Far East furniture so I wasn't expecting much. And I got just about what I expected. The "wood" is good enough (bamboo is a grass, but I like it as a material), and the milling and finishing is fine. That's 90% of the job right there. But they specified too small of a wood screw... the supplied screws strip out. If you're thinking about this cabinet then add the cost of buying (or scrounging) some #8 1" wood screws. They catch hold just right and won't strip. So thats simple enough. But the main negative I found was that the lift retainer (the catch that keeps the lid up) required shorter screws that were shown in the instructions but were not supplied... the supplied screws were too long. They would have poked out of the side and been visible... that's pretty ridiculous. So if you buy this, be prepared to supply your own screws. The build is typical and fast... Use your drill driver set on low and finish by hand (bamboo splits easily). And bring your own screws (#8 x 1" and #6 x 1/2" for the stay-up) In the end it's a nice piece... good proportions and a nice look and function. The top holds t.p. between the top ribs, and this was something I wanted. Towels and t.p.
September 9, 2014
Very nice, but assembly is a little difficult.
The cabinet looks great and is very stable. My only complaint is that it is rather difficult to assemble. The screws are VERY close to the shelves, making using a screwdriver all but impossible. I recommend a ratchet with a screwdriver bit.
July 10, 2014
Just the right size!
This floor cabinet is just the right size for bathroom and can hold all of the essentials with ease. We bought it over 2 years ago and the bamboo still looks very nice. The unit is easy to clean and hasn't shown any sign of wear. Putting it together was a bit challenging and took about an hour all together. Well worth it in the end!
December 31, 2013
Great spa-like cabinet
Had been looking for a bathroom cabinet for some time; found this when browsing store with a coupon in hand; should have started at BBB! SUPER EASY to assemble; took 10 minutes. Very sturdy; not the typical 'made in china' product. Looks great; perfect size; completed my bathroom remodel with ease, style, and functionality.
November 19, 2013
Stylish
Very good product. Sturdy and matches the bamboo tower perfectly.
April 17, 2013
Very Pleased with Purchase
In response to other reviews I would say the cabinet is indeed very sturdy when assembled carefully. Yes, the dowels are loose and serve only to hold things in place while you assemble it. Do not over-tighten the screws as bamboo apparently is a little brittle (I could hear a crunching sound when I overtightened one screw and stripped the threads in the bamboo. I inserted a toothpick in the hole and that screw now is fine.) Tighten screws only enough to stop any "wiggle" and the cabinet will be very sturdy. I omitted the upper one of the two top front crosspieces and can insert and remove small items from the closed space without lifting the cover. Very happy with the cabinet. Using in kitchen to hold items by dinner table.
March 3, 2013
Nice looking, but DO NOT BUY
This makes IKEA instructions and assembly look like a walk-in-the-park (e.g., dowels are so loose they fall out, screw heads blow out with a hand-tightening, one has to hold the top while screwing in the little 1/4" screws they give you to attach it.) Three hours later, and I'm still not finished. NOT worth it,
November 24, 2012
unstable
The bamboo is nice and bought it because it was the right fit for what I needed. This product is very unstable. Easy to put together and will now need to take apart and use wood clue where the wooden dowels are, hopefully that'll help with the wobbliness of the storage stand.
September 21, 2012
Related Searches:
Similar Products:
Also check out:
Twin $39.99 - King $54.99

Excluded from Pack and Hold

(4 Reviews)

$39.99 Each

$29.99 Each

Clearance!

(35 Reviews)

$34.99 - $59.99
(75 Reviews)

$14.99 Each

Beyond Value

(15 Reviews)