Lipper International Bamboo Folding Dish Rack
Measures 17.75" W x 13" D x 9.75" H
SKU # 13389144
Lipper International Bamboo Folding Dish Rack
30
32
Looks great and functions well!
I have loved having this product! The dish drying rack that I have next to our sink in our apartment isn't large enough to hold all of the dishes and I was always trying to stack them on the stove and everywhere else! Now having this to put plates and other things in I have so much more drying space! I put a drying matt under it on the counter, and it looks great! :) n
July 6, 2014
Lipper International Bamboo Folding Dish Rack
This rack doesn't fit very modest size dinner plates (10.5 inches). The problem is not the slats, nor the thickness of the plates-- both are fine. The problem is that the angle of the upper "deck" is well less than even 90 degrees. The resultant dimensions are a higher height and a narrower opening, or depth, and therefore the plates sit precariously, well above the surface. It could be resolved I believe by repositioning the cross bar, but I don't think a customer should have to re-design and/or remodel a flawed product. In contrast, my trusty old IKEA wooden rack -- giving up the ghost after 30 years-- has an angle of well over 90 degrees, is stable and fits everything, and offers quite a few more slats. So off we go back to BBandB, and out comes the glue to hopefully add a little bit more life to the existing rack!!! Oh yes,didn't want to forget to mention that after opening this nifty little rack about four times to figure out what is going on, a screw popped out!! I screwed it back In, but it won't bind (the hole is stripped!)
June 26, 2014
So Handy !!
Not exactly sure how I managed without this for so long. Great for anything that needs to be hand washed. Folds to fit beneath the sink when not in use. I use it with a drying mat to keep the counter from getting soggy! Would definitely recommend.
April 5, 2014
Stylish & Practical
Love the look and feel of bamboo. This rack is surprisingly sturdy and well balanced, good value for the money.
March 18, 2014
Excellent Value
This works for all dishes securely and folds to be put away when I no longer want it on the counter top. Good workmanship makes this is well worth the money. I will never buy another folding dish rack.
December 12, 2013
A far cry from the norm!
Love my new dish rack. It's functional and aesthetically pleasing. I also bought the cutlery holder to match. It adds a nice touch to my kitchen....makes it a bit warmer, cozier. Love.:)
December 8, 2013
I don't like the size of the slots, they need to be a little further apart. My dishes keep falling over because they are not secure enough.
November 16, 2013
The Only Dish Rack To Buy
This is by far the most attractive dish rack on the market and I love it! I even was lucky enough to get the last one. Make sure you buy a drying mat to go underneath it. I do not have the utensil holder yet but just lay my utensils on the top shelf to dry. I do plan to buy the utensil holder though and recommend you do too. The bamboo lets the water slide right off and is very well made. Easy to clean, not that it gets dirty. Highly recommend this product!
September 30, 2013
Related Searches:
Similar Products: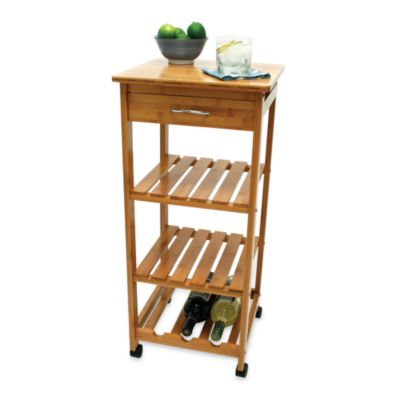 Lipper International Bamboo Cart with Wine Rack
Price:
$49.99
Brand:
Lipper
Categories:
Kitchen > Kitchen Organization > Kitchen Carts
This handy space saving design is great for use in every room in any house - no matter how big or small.
Lipper International 9-Bottle Bamboo Wine Rack
Price:
$24.99
Brand:
Lipper
Categories:
Dining > Bar & Wine > Wine Racks & Storage
This stylish pagoda-shaped bamboo wine rack holds up to nine bottles. Ideal for small spaces and countertops, its simple, clean lines and natural satin finish will complement any décor.