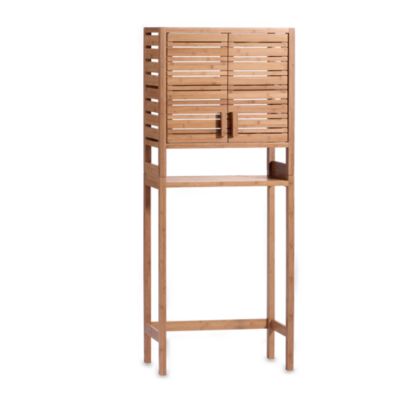 Bamboo Spacesaver with Two Doors
This spacesaver, made from natural, solid bamboo, has a modern, squared edge design and offers plenty of attractive storage space for you to store and display your items.
Two doors let you store personal or large items out of the way, while an additional shelf keeps items in sight and close at hand.
Features two fixed shelves and one adjustable shelf.
Measures 65" H x 26" W x 10 1/4" D.
Some assembly required.
SKU # 16249807
Bamboo Spacesaver with Two Doors
17
18
Bamboo Spacsaver with Tow doors
Easy to put together. Lots of shelf space. Looks good. One problem with wall mounting-it does not fit flush to wall and screws not long enough. I had to use longer screws and put spacers behind cabinet. You might add this to package.
October 29, 2014
Lovely product
My new home has minimal bathroom storage so I needed something extra for my guest bathroom. I saw several similar products online but I saw this one set up in an actual Bed Bath and Beyond store. I was very impressed and ordered it online. It arrived promptly in perfect condition with all parts in tact. Assembly was easy, but I'm not sure if someone who is not handy could make sense of the directions. I would definitely buy this again
September 1, 2014
Great looking space saver
It is very attractive, excellent quality and most of all easy to assemble, even by a woman! I love it.
August 4, 2014
Sturdy, attractive
It's a sturdy and attractive piece of furniture. So few bathroom "space savers" are made of solid natural wood. Assembly directions were easy for me to follow -- though I've assembled a lot of furniture out of boxes.
May 22, 2014
Wobble Wobble
My fiancee is currently disassembling the unit as I write this. Sadly, we do not recommend this product. We watched this product for over a year and finally decided to purchase it and were highly disappointed. First, putting the unit together was a hassle. It took my partner over an hour and a half to do so. Once assembled, the unit was super wobbly. We tried tightening the screws to the point where his thumbs were soar and the screw heads were stripped. We even thought of wrapping a piece of rope around the base of the unit to secure it because we could not drill holes into the tiled walls of our bathroom. We then realized that we paid $160 for a beautiful piece of junk. The unit is being packed up and being returned in the next few minutes. Unless you know you want to invest in something that requires drilling into your bathroom wall, do not waste your money on this item. Sadly, it is a pretty piece of junk.
January 26, 2014
Ingenuiity not included
This unit looks great and gave me the extra storage space I needed in my small bathroom. It was one of the more troublesome pieces of self-assembly furniture I've purchased (and I've owned a lot of such pieces from Target, Ikea, Wal-Mart, etc.). BUT with a gram of resourcefulness, you will end up with a very sturdy and lovely bathroom cabinet! Pro-tip: I broke off a couple of small pieces of styrofoam from the box, wedged them behind the unit where the screw holes are, and used long drywall screws to secure it to the wall. This kept the shelves level (without the spacers, it would have leaned backward a little when screwed tightly against the wall) and the whole thing is rock solid.
July 31, 2013
Legit hunk-o-junk!
Note to self...read reviews BEFORE I buy! Rickety as can be, and ironically the most expensive item of its type in the store. If it wasn't such a pain in the neck to assemble/disassemble I would return it. COMPLETE disappointment. It'll make good firewood next winter.
April 29, 2013
Poor Design, Poor Fit, Dowels Wrong Size
The only positive thing about this bamboo space saver with two doors is the packing in the box. It's packed very well and the pieces look great. But when you assemble, it's a train wreck. 1 - The dowels they ship are 1 size to small. I've assembled three different kitchens using products that require dowels. Dowels should fit snug. The dowels in this kit constantly fall out because they are too small. This explains why everyone reports it wobbles around. 2 - The lower bar between the side legs is a terrible feature. This thing hits the water line on my toilet. It's unusable with this bar in place, but without it the unit will wobble even more. I have no idea why anyone would design a behind the toilet shelf with a bar in the same spot as most water lines. 3 - There are extra holes in the legs, and they provide stickers...yes...stickers...to cover them. Nice if the stickers would actually be the same color. Save yourself, skip this poorly designed product.
March 3, 2013
Related Searches:
Similar Products: