AirBake® Ultra™ 16-Inch x 14-Inch Cookie Sheet
With 100% aluminum non-stick construction and premium insulation, AirBake® Ultra™ promotes even baking, comes with a no-rust promise and allows virtually no chance of burning
It is the ultimate in insulated bakeware, and provides overall enhanced baking performance
SKU # 13785996
AirBake® Ultra™ 16-Inch x 14-Inch Cookie Sheet
6
8
nice sized cookie sheet
Wears well. Other reviews commented on not putting in dishwasher. Yes, you can. Just use the liquid dishwasher soap - - not the gel packs, etc. The little packs contain a stronger cleaning chemical (don't remember what it's called) that does something nasty to aluminum cookware of all kinds - - not just cookie sheets. The finish can be restored, somewhat, by scrubbing with Barkeeper's Friend. I found that the packs work really well at cleaning the dishes, but I never use them in a load containing aluminum bakeware.
May 27, 2013
meh
Evenly bakes but need to use parchment paper. Cookies fully stuck to the pan.
January 6, 2013
Wish I had known not to put it in the dishwasher
This cookie sheet was great when I used it. Cookies cooked evenly and didn't burn or stick. However, the packaging said "Dishwasher Safe" so of course I put it in the dishwasher. I wish I had read the previous review about not using gel packs. Now the cookie sheet is ruined. They should consider putting this on the packaging to let people know it's not fully dishwasher safe and it should be handwashed.
September 1, 2012
Love it!
This is a large cookie sheet and super light weight. I bought this with a coupon so it was a good price. I baked a few things on it and it came out nice and even. I hand wash this because I don't want it to ruin. The instructions say that it is dishwasher safe BUT don't use a gel pack/tablet because it can ruin the cookie sheet. I don't mind hand washing this. This is one of the best cookie sheets I've had. I'm going to back to get the other sizes.
May 20, 2012
Amazing!
Best cookie sheets I've ever used. They cook so evenly without burning and nothing sticks to them. Super easy to clean too.
April 19, 2011
The only cookie sheet you'll ever use
This is absolutely the best cookie sheet ever made! You will never burn another cookie again! Just be careful when you're washing the sheet and make sure you don't submerge it in water or you will ruin it. Be sure to read the instructions for care because this awesome bake sheet can last forever. I promise and guarantee you won't be disappointed!
November 10, 2010
Related Searches:
Similar Products: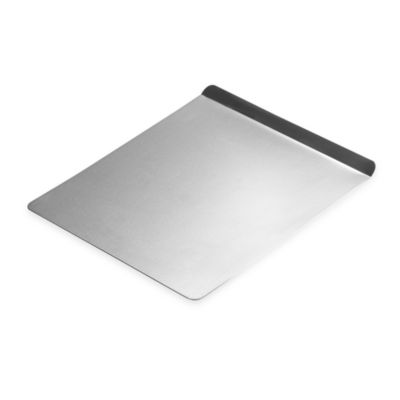 AirBake® Ultra™ Insulated 20-Inch x 15 1/2-Inch Mega Cookie Sheet
Price:
$16.99
Brand:
AirBake
Categories:
Kitchen > Bakeware & Baking Tools > Baking & Cookie Sheets
This premium insulated bakeware has 100% aluminum construction that promotes even baking and will not rust, ensuring long-lasting use for all your baking needs.
Also check out:
$19.99

Beyond Value

(20 Reviews)

$10.99 - $18.99

Beyond Value

(37 Reviews)

$19.99

Exclusively Ours

(3 Reviews)

$9.99

Beyond Value

(30 Reviews)

$7.99

Exclusively Ours

(3 Reviews)

$6.99 - $9.99

Exclusively Ours

(5 Reviews)

$12.99 - $13.99
(18 Reviews)

$8.99

Exclusively Ours

(1 Review)

$9.99

Exclusively Ours

(1 Review)

$9.99

Exclusively Ours

(2 Reviews)
$19.99

Exclusively Ours

(4 Reviews)

Twin $19.99 - King $39.99
(25 Reviews)

$99.99 Each

Clearance!

(7 Reviews)