TableCraft® "On The Rocks" Chilling Stones (Set of 9)
A great, convenient alternative to ice, Whiskey Rocks can be stored in the freezer for a few hours and then added to your beverage of choice to keep it chilled without melting the ice into your drink.
Commercial quality whiskey rocks are made of natural soapstone.
Set includes 9 chilling stones in a storage bag plus 2 cork coasters.
Made in USA.
SKU # 18221063
TableCraft® "On The Rocks" Chilling Stones
Are you one of those people who enjoys your cocktails on the rocks but hates having been diluted by melting ice? Well you'll love these "On the Rocks" Chilling Stones by TableCraft.
These chilling stones are made of natural handcrafted soapstone. They chill your favorite spirits without diluting your drink. Each set includes nine chilling stones and a storage bag.
Simply place the stones in your freezer for a few hours. Then you can add them to your drink. What's great is that the stones are reusable. Simply rinse them off after you've used them and then let them air dry. You can refreeze them for a few hours again and use them for all of your "on the rocks" beverages.
For everyone who enjoys drinking their cocktails on the rocks these chilling stones are a great alternative to using ice.
The TableCraft "On the Rocks" Chilling Stones are available online and at a Bed Bath & Beyond store near you.
TableCraft® "On The Rocks" Chilling Stones (Set of 9)
3
4
what a ------ would say something else but
two days in freezer. no luck....not even 9 in the box, 6 only and not room for 9in the box nor a carry bag. was not opened either. terrible product. really disappointed as it was a gift. now I am the guy that gives terrible gifts.
June 27, 2014
Works well
Keeps Whiskey cold for up to 1/2 hour. Be sure to freeze rocks for over an hour before each use. Cleans up easy with water rinse. Makes a great gift.
December 29, 2013
Waste of Money and Time
These rocks are not cold, they do not get cold, they do not stay cold. There is nothing cold about them. After two days in my freezer they came out feeling cool-ish maybe and after twenty seconds in a glass of gin they may as well have been rocks off the street. I also tried them in a glass of Bailey's and had the same result. Putting your drink into a warm oven would keep it cooler than these rocks will. They are heavy and have sharp corners and are likely to crack your glassware if you aren't careful with them but you should never have to worry about dealing with that because you should not buy them. You should not accept them as a gift and you should not allow them to be bought for anyone you know. They are too evil a joke to offer to even your worst enemy. Allow this review to serve as the most convincing product non-endorsement you have ever read. Warn your friends about this product. Go out of your way to be sure everyone you know hears how horrible this product is. Reading this review means you have already wasted more time on this useless product than you should I am sorry but also, you are welcome. They make good paper weights, kudos on that TableCraft.
October 31, 2013
Related Searches:
Similar Products: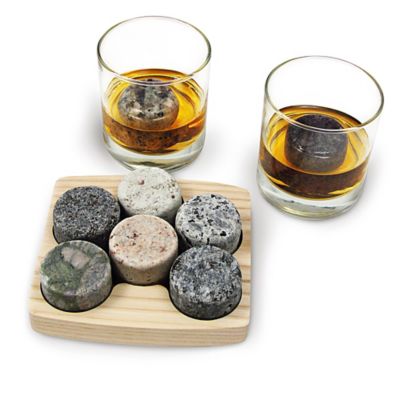 Sea Stones™ On The Rocks Granite Drink Chillers (Set of 6)
Price:
$33.99
Categories:
Dining > Bar & Wine > Bar Tools & Accessories
This novel bar accessory has won favor with Scotch purists and nature lovers. Crafted with care from stones collected from New England beaches, On the Rocks is a set of six granite drink chillers.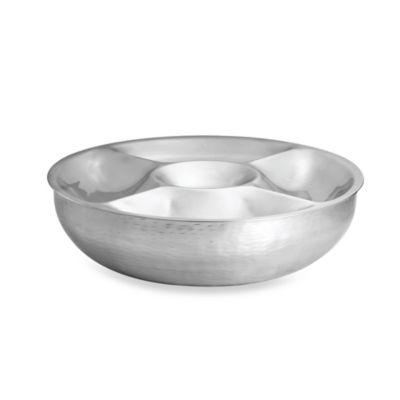 Remington Style Stainless Steel Round 2-Piece Double Wall Serving Set
Price:
$55.99
Brand:
Tablecraft
Categories:
Dining > Serveware > Appetizer Servers
Keep your cold food cold while entertaining with this ingenious double wall stainless steel serving set. The bottom bowl may be filled with ice to help keep the contents of the 5-compartment top bowl chilled and fresh.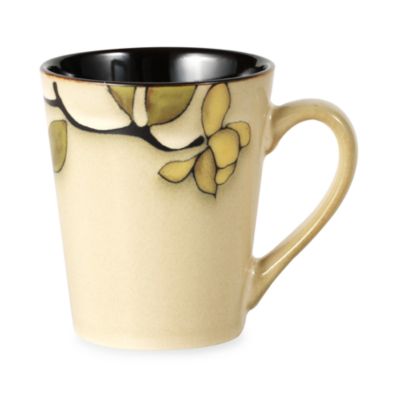 Mikasa® Gourmet Basics Emory 12-Ounce Mug
Price:
$2.99
Brand:
Mikasa
Categories:
Dining > Glasses & Drinkware > Coffee Mugs & Teacups
This stunning stoneware dinnerware set features a yellow floral decoration on an aged, weathered stone background. The seemingly random cracked rock patterns bear a striking resemblance to stemmed flowers.
Also check out:
$24.99

Exclusively Ours

(11 Reviews)

4 Piece Set $19.99
(3 Reviews)
$39.99

$29.99

Clearance!

(9 Reviews)
$24.99

Price reflects 20% instant rebate

Twin $79.99 - Cal King $139.99

Exclusively Ours

(31 Reviews)

Twin $79.99 - Cal King $119.99
(83 Reviews)

Twin $39.99 - King $54.99
(9 Reviews)

Twin $24.99 - Cal King $39.99
(16 Reviews)