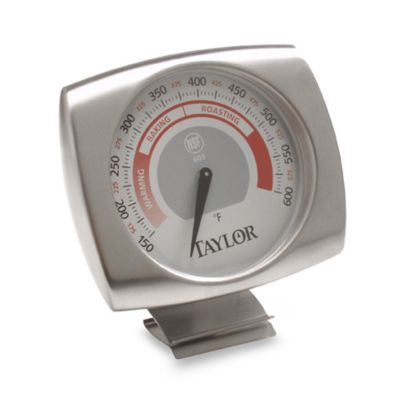 Elite Oven Thermometer
It's great for calibrating a new oven or for replacing an oven's old-fashioned mercury thermometer.
It measures temperatures from 150 degrees F to 600 degrees F.
Large numerals in 25-degree F increments let you read the temperature quickly and easily.
Measures 2 4/5" H with a 2 2/5" viewing dial.
Overall dimensions: 1 1/4" x 5 3/5" x 6 2/5".
SKU # 17715445
Elite Oven Thermometer
1
1
It works
I found that my food would sometimes cook too fast or too slow, so I wasn't sure if it was my oven temperature, the bake pans, or the food itself that was causing the problem. I purchased this oven thermometer to help ensure the oven temperature wasn't the problem. It seems to work well; however, I cannot clip it onto the rack in a way which allows the display to face me. It always faces the side, so I just lay the thermometer across the rack.
June 13, 2013
Related Searches:
Similar Products:
Also check out:
$8.99 - $11.99
(6 Reviews)

$12.99

$50 Bonus Gift card with $300 Calphalon Purchase

(13 Reviews)

$149.99

$50 Bonus Gift card with $300 Calphalon Purchase

(8 Reviews)
$9.99

$50 Bonus Gift card with $300 Calphalon Purchase

(11 Reviews)

$4.99

Exclusively Ours

(6 Reviews)

$19.99 - $24.99
(31 Reviews)