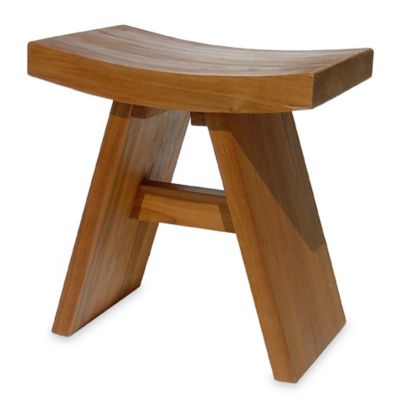 Teak Asia Stool
It will not rust, corrode or pit, offering many years of exquisite style and durable use
Rubber padded gripping feet
Measures 18" W x 18.3" H x 12" D
SKU # 14945679
Perfect size
This stool is solidly made and sturdy. The perfect height for any height person. Good weight for ease of moving. The curve seat conforms to body.
September 15, 2014
False advertising
I loved the look, sturdiness & comfortable seating of this chair. Was very disappointed to find it doesn't hold up to water. The chair is advertised as a shower chair. After several months it began to grow mold and have areas of black slime. Waste of money. Very disappointed.
September 8, 2014
Watch for Scuffs
Great product, had to go to two separate stores to buy a couple in good shape. Poorly wrapped when shipping, had to return what was shipped to me due to loose packing in box - corners scuffed and dented. That said, once I found two in good condition, great look, strong, elegant and stylish - just hope the store doesn't lose their shirt in returns due to poor shipping practices.
July 8, 2014
teak asia stool
Extremely well built. Solid. A little cumbersome to move around in the shower but, that is because it is so well built. We feel very secure sitting on it. It does take up a substantial amount of space however, we do have a large walk in shower so it is fine.
June 17, 2014
Save your money - Separates when wet!
Bought this bench/stool less than a year ago in the local BB&B store. Loved it for the first month or so, then noticed the pieces of wood began separating on the top, and those separations have now become 1/4 to 1/2 inch cracks between pieces of wood. There's no sense in buying a stool for the shower that begins falling apart when it gets wet. Too bad, because this is exactly what we needed...just something with more significant quality.
April 5, 2014
very good, very firm and confortable, good job
my husband and I really loved. The product is wonderful, awesome! thanks
January 8, 2014
Does NOT withstand water overtime
I loved the style and stability of this product. I do not have a bathtub in my stand up shower and was looking a chair to place in the shower . This seat made my whole bathroom look updated and cool. However... This DOES not keep its beautiful deep red color once in contact with water on a daily basis but easily becomes stained with water droplets and ends up looking gray and very unsightly. I returned to bed bath and beyond in search of the teak oil to care for the product but was unable to find it and was told to look online. I had mistakenly bought 4 of these and was to embarrassed to return them as the attitude in the store with some of the employees is disheartening to say the least. After viewing others opinions here with this product i may return these as i cannot use them for the purpose intended. The two that never were used in the shower look ok. The one used in the shower looks awful and grey. and the fourth that was used near the shower has water droplet spots on it. So ,yes at first sight amidst the sea of plastic and tacky man made products at BB&B these do stand out for their beauty and purity but sadly they do not perform for the purpose intended.
January 7, 2014
its fits nicely in our tub
this seat is well constructed I think , its solid and the wedged wood constructed is just fine . I cant see how this product can peal apart as some others have suggested ? its meant for water and I think it will last a very long time . its teak .
December 11, 2013
Related Searches:
Similar Products: