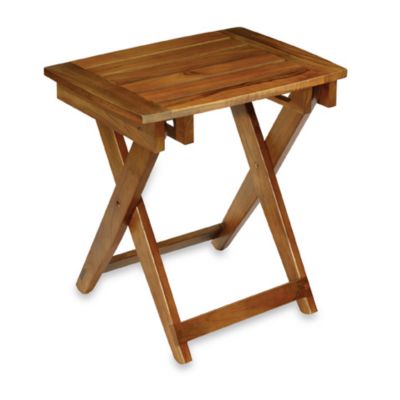 Conair® Teak Folding Shower Seat
Includes padded feet for floor protection
100% teakwood
Weight capacity up to 200 lb.
Measures 17" L x 13" W x 18" H
SKU # 14576010
Conair® Teak Folding Shower Seat
18
18
This is great for the bathroom after a shower
I use this outside my shower. I use lotion and cremes on my legs so I sit on the stool while I do this.
October 6, 2014
Shower Bench
This is the perfect bench for the corner of a shower. It is well made and really pretty.
September 2, 2014
Perfect For My Purposes
I use a shower seat in the tub because of my back; I can't stand for long periods of time. My previous shower seat was put together with bolts and was very rickety. When I saw this shower seat and read the reviews I gave it a try. It's very sturdy and nice to look at and it folds up for storage. I was pleased to see that it has grippers built into the feet to keep it from moving around or scratching the tub. Do put a towel on the seat during use or you will end up with some funny marks on your backside. I'm very satisfied. I would buy it again but I think it will probably last me for the rest of my life.
August 11, 2014
teak shower chair
I like the teak shower chair but I got it home & decided to use it as a table on my patio to hold my tea while I am outside. It folds up so you can put it up when you don't need it & it is light enough to move around. I am planning on getting another one for the shower after the first of the year. I love the natural qualities of the wood and for the price the workmanship is nice. I think anyone would like this product. Beats plastic in beauty.
December 19, 2013
Nice quality!
This is a good product for the price. I've seen similar items much more expensive. I just bought my second one for another shower. They sit inside the shower and get wet frequently, and while I occasionally wipe them down or spray with disinfectant I don't do much else on them so the first one is showing some discoloration. I don't mind this... the main thing is to make sure there is no mold growing. That would weaken the wood.
June 6, 2013
Great looking!
High end look for this shower seat. Comfortable for shower or tub!
May 23, 2013
High quality and perfect for the shower
I searched long and hard for a shower stool to put in our new standing-only shower. I needed something to put bottles on and to use while shaving, and this is perfect for the job. I was on the fence about purchasing it because of the price, but the teak is beautiful, high quality, and I think it will last a long time. I'm really happy with it.
April 11, 2013
Nice bench, wrong color
I bought this bench for my oversized shower, and the quality is great! Color is nothing like the picture though... much darker.
September 21, 2012
Related Searches:
Similar Products:
Also check out:
$14.99

$9.99

Clearance!

(23 Reviews)

$79.99

Exclusively Ours

(11 Reviews)

$19.99 - $24.99

Exclusively Ours

(10 Reviews)
$69.99

Great Value

(26 Reviews)

$59.99

$49.99

(30 Reviews)

$79.99 - $99.99
(22 Reviews)
$3.99 - $19.99

Beyond Value

Exclusively Ours

(6 Reviews)

$4.99 - $8.99
(9 Reviews)