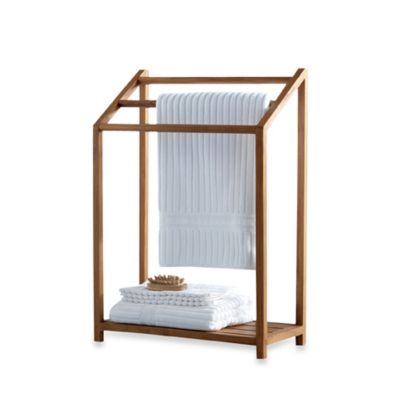 Teak Towel Rack
Easy to assemble with included tools.
Measures 34" H x 23" W x 11" D.
SKU # 17507184
This product is priced to high.
Although the product has good style and easy to use, it is over priced. Some wood areas were not properly stained, one of the rods was patched in three places, and the front top screw area was damaged. Once again I received a BB&B package not secured and damaged during delivery. It appears the product was damaged during packaging; however, the quality sticker was displayed. I don't have a lot of time to stand in the return line or post office line. It meets my current needs, but would not purchase again.
June 12, 2014
Works for us
Yes, it is a bit costly. No, it's not very large. It is, however, a fairly well made and agreeably shaped teak object that functions nicely in the house. Ours replaced a hideous piece of junk that we kept in our bedroom for drying wet towels. It's a real improvement.
April 19, 2012
Way over priced
This towel rack is okay, but WAY over priced. Also, the packaging it came in was horrible--all the screws and things were bouncing around inside a huge box and the wood pieces weren't packed to keep them from banging around. It actually looked like someone had returned it (and tried to put it together wrong first) because some of the holes that pieces went into were chipped. I really needed it for a lot of house guests so I kept it, but it definitely would have gone back it that hadn't been the case.
June 8, 2011
Related Searches:
Similar Products:
Also check out:
$79.99 - $119.99
(6 Reviews)