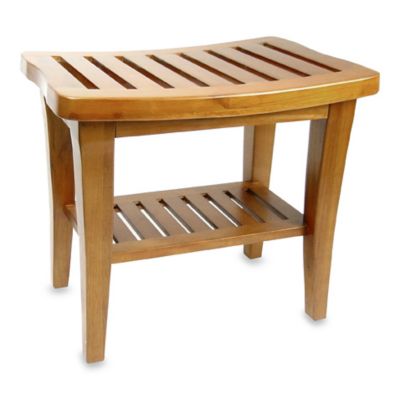 Teak Wood Shower Bench
Measures 13.75" D x 21" W x 17" H
Water resistant and durable
May be used indoors or outdoors
Weight capacity of 350 lbs.
.
SKU # 17534939
Teak Wood Shower Bench
31
32
Damaged
I received the bench about a week ago and did not inspect it well, I wrapped it for mothers day, when my wife opened the box the top of the bench which was on the bottom of the box without any padding was scratched and two of the corners were dented. I'm very unhappy with your packaging and will be returning the item for another one. I hope the replacement will be shipped properly. Also one of the legs is shorter than the others and the bench rocks, not something you want for a shower bench. Right now I'm very unhappy with this order and hope the company makes it right.
May 11, 2014
Cracking after one month of use!
When I purchased this item I was totally satisfied with the product, even the price. However, after one month the bench is splitting along top of seat on the long side which doesn't appear to even be in a joint. I intend to return item for replacement.
April 29, 2014
Very stylish addition to bathroom
Shower bench is sturdy and very attractive. Perfect size. Was slightly damaged on one corner from shipping, but preferred to touch up rather than return.
April 14, 2014
Teak Shower Seat
This seat came pre-assembled, a definite plus. My husband is a big guy and he's has no problem using this seat. It is large enough, very sturdy and steady. By using BB&B's 20% coupon the price becomes reasonable.
April 7, 2014
Beautiful wood; love it! Meets my expectations and needs.
March 31, 2014
Great looking bench, but creaky
The bench came fully assembled and it looked great out of the box. But when I went to sit on it, it was creaky. I didn't feel very secure on it. There are no screws to tighten, It appears to be glued together. Also, it would have been nice to have adjustable feet to level it in the shower which is sloped towards the drain.
March 31, 2014
Inferior quality
This is the right size, but very shoddily made. The legs wobbled, and the finish was worn off by the bottom bar. I'm returning it.
March 17, 2014
Teak Wood Shower Bench
Only thing I would change would for it to be a little longer
December 11, 2013
Related Searches:
Similar Products: