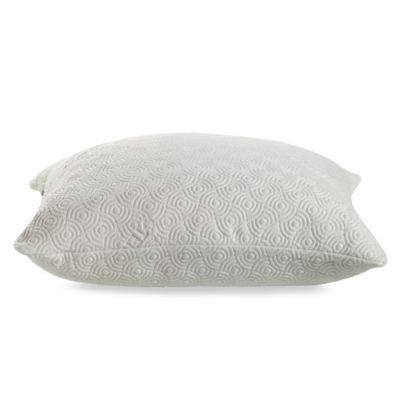 Tempur-Pedic® The Tempur-Cloud™ Standard Pillow
This patented design features individually formed TEMPUR-ES microcushions that fill a specially designed inner sleeve also made of TEMPUR-ES material.
The ultra-huggable pillow can be shaped or fluffed easily to fit your individual needs, and provides plush and pressure-relieving comfort to help improve your quality of sleep.
The removable, washable cover is resistant to allergens and mites.
Cover is 100% polyester.
Netting is 100% polyester.
Fill is 100% viscoelastic polyurethane foam.
Measures 24" L x 18" W x 5" D.
3-year limited warranty.
SKU # 17703188
Tempur-Pedic® The Tempur-Cloud™ Standard Pillow
6
6
Too hard
i got this pillow because it was very filled compared to the other pillows. However, I have given it a fair try, and it continues to be very hard. it does not mold to the shape of my head. I wake up with a stiff neck and my ear hurting. If you like firm pillows, then this one is great, but if you are looking for a fluffy one, this is not the one to get. It's much to expensive to be so hard.
December 10, 2013
Would never buy this pillow again
I don't know why they call it the cloud because it doesn't feel like you are sleeping on one. I've been waiting for nearly two months to write this review because I thought I would get used to it. But this pillow is so hard, I wake up during the night and my ears hurt from laying on it. I think I'm giving myself wrinkles because the pillow isn't squishy so my skin squishes instead. The ONLY time I like this pillow ok is when I'm sleeping on my back, but I don't sleep on my back that often. I really regret spending so much money on this pillow. And you can't put another pillow on top of it because it is too tall.
November 19, 2013
Love it!
I've had this for about a year and I love it! It's still has the same shape. It cost a lot but for something I use every single day, it's worth it!
November 9, 2013
Too large for small person/expensive mistake.
Thought this pillow would be answer. Didn't realize two things: If you are a small/light head this pillow won't conform properly. Not enough weight to bring pillow down for a back sleeper. Also, when you squish the pillow into shape for your comfort, it won't stay there. As soon as you shift, you start all over again for the right fit. Most expensive mistake on a pillow I ever made
April 26, 2014
Way too thick
Bought two of these pillows as we also purchased the Cloud Luxe bed. We tried out the pillows in the showroom and they were wonderful. Get the new ones home and they are over a foot thick and the weight of my head is just not enough to make them comfortable. I had to sleep on the edge of the pillow just because it was flatter and kept waking up throughout the night. My neck, shoulders, and jaw are all in extreme pain today causing migraines. I will not even attempt another night with this pillow. My husband was constantly tossing and turning with his, as he couldn't find a comfortable spot with it. We will definitely be returning both of the pillows. A real disappointment. If they weren't so thick, I think they would have been perfect.
February 9, 2014
This was the biggest waste of money ever
This pillow has good intentions but as far as "long term" goes unless you want to form cramps and knots in your neck/shoulders stick to something flatter. The pillow is too big and both my husband and I have been suffering from neck pain for the last month. It didn't occur to us that it could be the pillows because they started out so great. However after switching to the pillows we had before buying those we are much more comfortable.
September 25, 2013
Related Searches:
Similar Products:
Also check out:
$99.99 - $129.99
(44 Reviews)

$199.99 - $239.99
(32 Reviews)

$99.99

$69.99

Clearance!

(27 Reviews)

$64.99

$59.99

Clearance!

(2 Reviews)

$10.99

Free Standard Shipping

(92 Reviews)

Twin $99.99 - Cal King $199.99




Twin $69.99 - Cal King $139.99

Clearance!

Exclusively Ours

(59 Reviews)
Twin $79.99 - Cal King $119.99
(74 Reviews)

$49.99

Exclusively Ours

(4 Reviews)

$14.99 Each

Beyond Value

(15 Reviews)

Twin $99.99 - King $149.99
(28 Reviews)