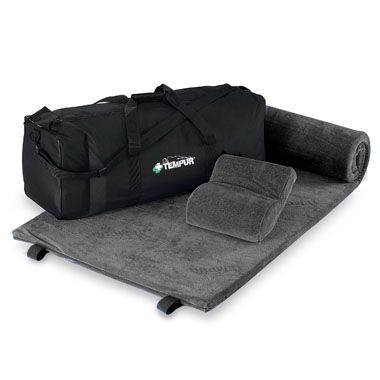 Tempur-Pedic® Travel Set
This invaluable set includes a 79" L x 27 1/2" W x 1 1/2" H mattress overlay and a Travel Neck Pillow you can store in a handy waterproof duffel-style bag
Both the mattress overlay and neck pillow have machine washable terry velour covers
Weight 19 lb.
3-year manufacturer's limited warranty
SKU # 13496137
Tempur-Pedic® Travel Set
7
7
Worth every penny
Every trip I take I'm tired and crabby because I can't sleep in a hotel bed. This mattress pad changes that! It is easy to repack and surprisingly light. I took the gamble and won! Will never travel without it.
June 29, 2014
Better than expected
I got one of these mattresses because I booked a hotel room that only had one king sized bed. There were four of us. The hotel gave us a rollaway, but that still left one of us on the floor. I bought the Tempurpedic travel mattress after reading the other reviews. I was able to check the travel bag as one of my 2 free Southwest checked bags. I slept great on the floor for five nights. I have two Tempurpedic mattresses at home and I like them, but I did not realize that only 1 inch thickness of this memory foam could be so comfortable. Thanks to above reviewers for giving me the confidence to purchase this product.
December 28, 2012
Awesome
My husband has bulging discs and sleeping on a regular mattress causes a lot of pain and discomfort. We have a Serta memory foam at home which is great! For travel we bought the Tempurpedic Travel set. It's fabulous. Just place it on top of the existing hotel mattress and you're good to go. Sometimes the hotel mattress is too soft or is sagging so he just puts the Tempurpedic on the floor and voila! He takes it with him everywhere. Domestic or internationally...it's worth the extra cost of paying for "extra luggage" when flying. The wheeled bag is great too!
November 28, 2012
Great for floor sleeping too
Though it's supposed to be a mattress topper I purchased this primarily to sleep on the floor when I travel as I'm often stuck with a bed that is too soft. I prefer firm support and am mostly a back sleeper. Studies also show that firm beds are much better for skeletal health than soft squishy beds are. I knew a couple of people who said they used this travel set for camping so I figured it would be fine for me to use in hotel room floors and such. The foam is nice and dense so it will add a bit of support even on a bed that is too soft or springy, but I haven't used it like that yet. I've used it several times sleeping on hardwood floors and slept wonderfully. The travel duffle it comes in has wheels and a pull out handle bar for easy travel. I think the wheels could have been of better quality. They are plastic and seem like they could break if one isn't careful. Also the double zippers for a wider opening is nice, but a wider opening for taking the rolled up topper would've been nicer and easier. The set along with the duffle bag weighs only 17 lbs so easy to roll or carry. You cannot have this as a carryon and it must be checked as it is 30" long, but it is not oversized as per airport regulations. Though the velour cover of the pillow and topper are removable and washable, I wished they had a regular sheet that could be put over that. In my experience regular washing of velour covers wears them away. So I use one of those cacoon travel sheet sacks to protect and cover the bottom and top of the mattress topper like a fitted sheet. Instead of sleeping myself into the sack I simply slide the topper into the sack and leave the open side to the strap side. So when I need to wash, I just need to wash the travel sheet sack rather than the velour cover. The set rolls easily with the sheet sack on so I keep it on the set until I need to remove it for washing. Though I think the price warrants some improvement in the quality of the travel bag it comes in, this sheet set was certainly a great buy.
July 3, 2012
Amazing
I have to admit, at first I was skeptical that this little pad could do much at all. I actually purchased 2 of them with all the intentions of returning when it didn't work! Quite and investment! I have to say I am amazed at how well it works! My husband I and travel by train a good bit and that was the original intent of the purchase. We have also figured out that it can transform even the very worst hotel bed into something of luxury affording you an amazing night's sleep! It is a keeper! We are both very pleased with this travel set and will be using it a lot when we are away from home. Pricey, yes, but well worth it if you have a bad back and treasure the quaility of sleep when you are away from home. Invest, you will be glad you did.
November 30, 2011
I originally purchased 2 of these sets to use for train travel. The sleep was amazing! On our last trip we discovered that using the sleep pad as a topper on the hotel bed transforms it into a wonderful nights sleep! Even a bad bed becomes good with this "topper". We are both delighted to have found it. The travel pillow isn't so great but the "topper" more than makes up for that. It is easy to haul around too with the case it comes in. However after reading the review about the airline abuse and the lack of a replacement bag, we will not be taking with us for airline travel. Too bad because I got a feeling it would be an awesome enhancement for a cruise too! Anyway, you really can't go wrong with this set if quality sleep is important when you travel. It is expensive, I was hesitant because of the price but now I am a beleiver! Purchasing 2 at once was quite an investment but it turned out to be a very good decision. My husband and I are both very happy with this travel set (except for the pillow).
December 19, 2011
took it camping with some of my buddies. It was so comfy!!! I go camping a lot and this is by far the best sleep i had out in the wilderness. im thinking of buying another one. one for home and one for camping!
November 23, 2010
Related Searches:
Similar Products:
Tempur-Pedic® Travel Comfort Pillow
Price:
$79.99
Brand:
Tempur-Pedic
Categories:
More > Luggage > Travel Accessories
This comfortable travel pillow combines a traditional pillow shape with Tempur®, the revolutionary pressure-relieving material that conforms to your body.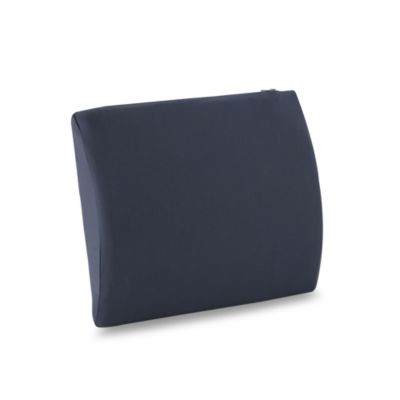 Tempur-Pedic® Lumbar Support Cushion for Travel
Price:
$59.99
Brand:
Tempur-Pedic
Categories:
More > Luggage > Travel Accessories
This lumbar support cushion by Tempur-Pedic provides max comfort, great fit and proper support for your mid and lower back while you travel. Made with Tempur-Pedic's proprietary Tempur® material that relieves pressure and conforms to your body.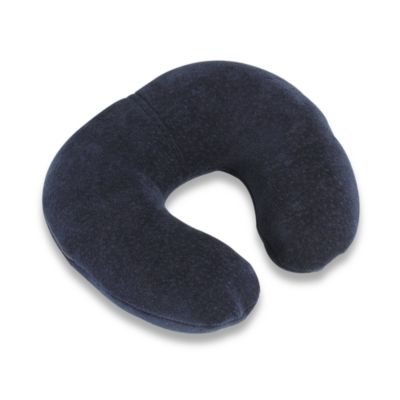 Tempur-Pedic™ Neck Support Pillow for Travel
Price:
$79.99
Brand:
Tempur-Pedic
Categories:
More > Luggage > Travel Accessories
Stay comfortable and relaxed while traveling with this neck support pillow. Unique "horseshoe" shape cradles neck for added comfort and support while allowing neck and shoulder muscles to relax completely.
Also check out:
$39.99 - $49.99

Exclusively Ours

(30 Reviews)

Twin $199.99 - Queen $299.99




Twin $139.99 - Queen $209.99

Clearance!

(29 Reviews)

$29.99 - $34.99

Beyond Value

(13 Reviews)

$99.99 - $129.99
(53 Reviews)

$79.99 - $99.99
(92 Reviews)