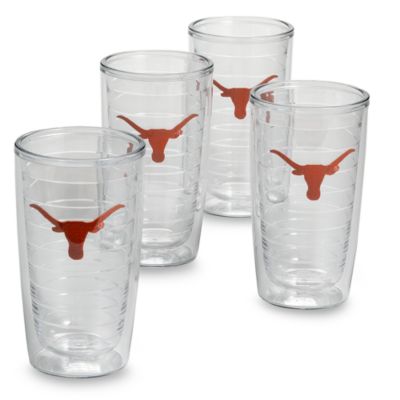 Tervis® University of Texas 16-Ounce Tumblers (Set of 4)
Made of high quality polymer, it is microwave, freezer and dishwasher (top rack) safe.
Lifetime guarantee.
SKU # 14304134
Tervis
Life is for living, having fun and enjoying moments big and small. Tervis goes with you, enduring all of life's adventures, helping you make the most of every moment, on the go, off the beaten path, at home or at the office.
Tervis keeps hot drinks hot and cold drinks cold, is virtually unbreakable, reduces condensation and is safe in the microwave, freezer and dishwasher.
To help everyone kickback, relax and enjoy themselves to the fullest Tervis offers a world of refreshingly versatile and customizable products. There are solutions for any thirst, large and small. The little 10 ounce and its free-spirited friend the 10 ounce wavy are perfect for the younger crowd. The 16 ounce, the most popular one of the bunch, a cozy mug that's easy to handle because it has one. The large 24 ounce tumbler with more room for refreshment which means less frequent fill ups.
Tervis also offers a number of convenient accessories like handles that slip on for a comfortable grip, lids and straws, great for taking your tumblers on the go. There's even a shaker top lid that's perfect for mixing things up.
With thousands of unique and colorful designs featuring some of the world's most beloved and popular brands you can show the world who you are and what you love.
Introducing the latest in innovative insulated drink ware from Tervis, with performance so incredible and a look so stylish we had to bottle it, The Tervis 24 ounce water bottle. With a comfortable grip that won't slip, an easy open pushbutton lid you can access on the move with one hand. Volume indicator rings that make it easy to measure drinks and an opening large enough to fit ice cubes easily. The Tervis 24 ounce water bottle, grab it and go.
Tervis is always full of fun. It's your world. Drink it up.
Tervis® University of Texas 16-Ounce Tumblers (Set of 4)
4
4
Efficient
These glasses do not sweat so they can be set on any surface.
October 17, 2012
Love this!
Purchased this tumbler and really like it - even had it personalized!
April 20, 2014
Great size for children.
I bought this tumbler as a baby gift knowing it would be too big for a while.  When it arrived I realized it would also be the best size for elderly people with arthritic hands.  The slim design is easy to hold.
September 9, 2013
Amazing UT Product!
I had this item personalized for my husband & he LOVES IT!!!!! I got it in black with a lid and straws. The orange text is awesome! Will be buying more products soon! 
September 6, 2013
Similar Products: