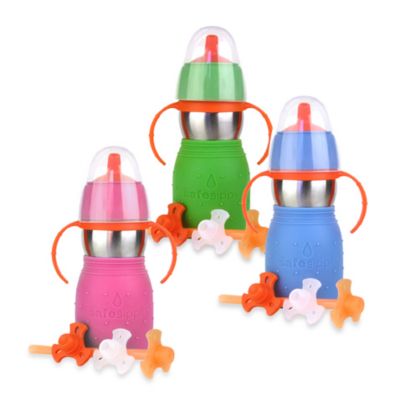 Kid Basix The Safe Sippy2™ 11 oz. Sippy Cup
The Safe Sippy2 features a 2-in-1 design, easily converting from a sippy cup to a straw bottle
No-spill sippy valve and adapter instantly converts it from a sippy-to-straw bottle
Insulating sleeve keeps drinks cold when filled and makes gripping easier
Handles give little ones added ability to hang on and are removable for older children who can grip the tapered bottle
Includes a dust cap for keeping the spout clean and a travel plug
Makes the transition easy for little ones
Made of lightweight, food-grade stainless steel
BPA- and phthalate-free
Dishwasher-safe
Suitable for children 6 months and older
Imported
Kid Basix The Safe Sippy2™ 11 oz. Sippy Cup
7
7
This is not spill proof!
The features of the product state that the product is spill proof, this is a complete lie. The one I bought spills all the time!
June 24, 2014
Best customer service around
These sippy cups are the coolest around! They are stainless steal, bpa free, have removable handles, convert from regular sippy cups to spill proof straw cups, and are downright awesome looking. They will grow with the kids and last forever. My 3 sons all LOVE these cups and the baby has no problem drinking from them. They come in lots of colors which is awesome for us since each of the boys has his own color and can easily tell whose is whose. An added benefit - I have never encountered such amazing customer service...EVER! If you have any problems whatsoever give them a chance to make it right before you decide you don't like the cup. It may be a simple fix.
September 7, 2013
I would love to erase the rating I previously wrote. The sippy cup valve was torn and why it was leaking so bad. The company is sending me a new valve!! So this cup will work great when the new valve arrives!!
June 25, 2013
I was excited to purchase this cup with all of its features! However I was extremely disappointing when it leaked everywhere!! At some times it would just pour milk out of the spout! I wrote the company and still have not received a response. If your not worried about a mess or your child can hold it upright all the time then this is a great cup!
June 24, 2013
Best nonplastic sippy out there
I have tried many and this is the best. We rotate 3 and my son's best friend will ignore his own sippy when he sees ours. I don't find it terribly hard to clean as I just toss it in the dishwasher and it is done. My son was using at 6 months, no problems. I agree with the other review: it is very easy to hold and since it has a straw easy to learn to use. Honestly, the best stainless steel sippy. Don't bother with the other ones. The major con would be the sleeve. It traps moisture so we just removed it and don't use it anymore...but I won't rely on anything but a good thermos for insulation. It does dent but it is stainless steel
November 1, 2012
Can't clean
I hated this sippy cup. It was a good idea, but poorly constructed. You can't clean it! I literally had to get q tips to clean it. Also the rubber around the outside of the sippy cup is a sleeve. If you remove it, it doesn't fit right anymore and slides around, but moisture gets down in it and mold starts to grow so you have to remove it. I finally threw this sippy cup away today after only having it a few months because I realized mold was starting to grow on the inside of the top and I was sick of fooling with it. It leaks as well, and whenever you screw the lid on it shoots the drink out and makes a big mess. (and gets drink down in the aforementioned rubber sleeve) Don't buy.
February 2, 2012
Better than a sippy cup
This cup is great, my daughter doesn't have to tip it up to drink from it and got the hang of it right away. It can also be used as a conventional sippy cup too, depending on what attachment you put inside the cup. Easy to keep clean because the inside is stainless steel. Also very east to hold.
July 3, 2011
Related Searches:
Similar Products: