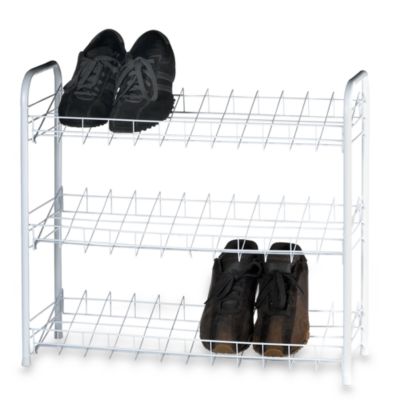 Three-Tier Shoe Shelves
Rubber covers on legs protect your floor from scratches.
Measures 25" W x 10 1/4" D x 23" H.
SKU # 14482369
Three-Tier Shoe Shelves
16
18
Beyond Value == No Value
I agree with the bulk of the reviews here. This is a wretched piece of junk, extremely difficult to assemble, flimsy, and not as large as advertised. After finally forcing it into a standing position, I expect it to last a week - maybe - until a proper wooden replacement arrives. BB&B is an American company, and should be ashamed to sell such merchandise to its fellow citizens. Worthless, bordering on fraudulent.
October 13, 2013
Just junk
Wish I'd read the reviews before I purchased this! I'm handy enough so I shouldn't have had trouble putting it together, but 45 minutes later I had a wobbly piece of junk which holds 9 pair, not the 12 pair the wrapper said, plus I had to force the last shelf hook over the end piece with a screw driver. The metal bends very easily and it has no stability at all. I bought 2 of these and both are going back to the store. If it's this wobbly with my shoes, it will never hold up my husband's size 14 shoes!
May 14, 2013
Difficult to Assemble
Ok...I'm not an engineer but I have put together a lot of furniture in my life. This was one of the most confusing items I've ever tried to assemble. Instructions are pure garbage. Even after I got the idea of the assembly, the racks kept getting stuck or popping apart. After about 45 minutes, I finally got the rack together and then realized it does NOT hold 12 pr of shoes. Only 9 ! I would return but this i the 2nd worthless shoe rack I've purchased from BBB. I purchased a perfect one from Walmart. Will go there next time.
December 26, 2012
I purchased three of these racks a year ago. They were frustrating to get together, but I finally got it. They worked well for a few months, but then the shelves started sagging. I was only able to fit nine pairs of shoes to each rack (3 on each shelf). The center of the racks has continued to sag and now the racks are coming apart from the base. I decided to write a review while I was shopping to purchase new shoe racks. These are not a good long term investment.
December 9, 2012
Not that bad!
I purchased the shoe rack and it went together just fine - you just have to look at the instructions. My only comment is that on the front of the package it says it accomodates 12 pair of shoes. I wear a size 6 and I could only get 3 1/2 pair on each tier.
April 27, 2012
Can't return it fast enough
Yes, it was only $12.99, but even $1 is a rip-off. Just as soon as the shelves fit together - exactly as in the picture, they'd pop apart. With a lot of glue, it has possible value as a decorative item, but it is not functional. Save your money.
March 25, 2012
Wish I had read the reviews
I didn't read the reviews until I bought this and tried to put it together. I had already called it the worst piece of junk I ever saw, when I saw that others agreed. Everytime I thought I had it the whole thing fell apart. The wire frame bent like paper. One time it hit Tigger's head and next it pulled a whole in my carpet in spite of the fact that it says rubber feet will protect your floors. What a waste, of time, of money, of effort, of a good Saturday afternoon. I am so tired of buying this junk from China, especially on my limited income. I love BBB but am beginning to wonder about their buying criteria.
March 24, 2012
Starshell
Good shoe rack for the price. This is the third one I have bought and although others have said it is hard to assemble if you read the directions it should only take five minutes!
March 14, 2012
Related Searches:
Similar Products:
Also check out:
$8.99

Beyond Value

(7 Reviews)

$9.99 Each

Beyond Value

Exclusively Ours

(28 Reviews)

$24.99

Exclusively Ours

(6 Reviews)
$89.99

Free Standard Shipping