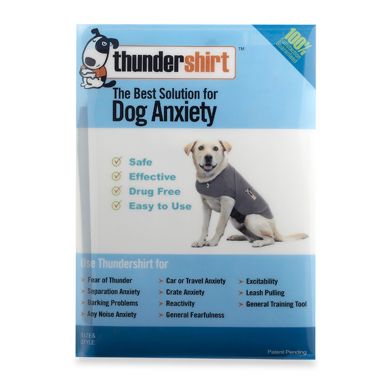 Thundershirt™ Grey Dog Anxiety Treatment Shirt
Thundershirt™'s gentle, constant pressure has a dramatic calming effect for most dogs if they are anxious, fearful or over-excited.
Utilizes pressure to relieve anxiety.
Soft, breathable dog wrap is made using 55% cotton/35% polyester/10% spandex blend and is adjustable with hook and loop fastener straps.
Hook and loop fasteners for easy strapping to your dog.
Provides a drug-free dog anxiety treatment for your pet.
Machine wash.
Imported.
Thundershirt Gray Dog Anxiety Treatment Shirt
You know sometimes we dogs get anxious, fearful or overexcited. We get scared of fireworks and thunderstorms or anxious when someone leaves us alone. We shake, pant, drool, destroy furniture, hide in bathtubs.
Fortunately there's an easy, safe and inexpensive alternative that works with more than 80% of us dogs – Thundershirt. You put it on and instantly the shirt applies a constant gentle pressure to the body.
Pressure is believed by experts to release a calming hormone which is comforting to living beings.
Thundershirt - you put it on, we calm down.
That's like a giant wearable hug that never ends.
Thundershirt is completely safe and drug-free. It's easy to use and comfortable to wear. It's available in a range of sizes to fit most every dog.
Thundershirt - the shirt that hugs your dog.
Thundershirt™ Grey Dog Anxiety Treatment Shirt
9
10
Amazing Product, Must Use Correctly 4 Best Results
I did lots of research on the Thundershirts for our Basenji, Kenya. When storms roll in, she will pace, pant and work herself up into a tizzy, usually pooping in the house. We have used the Thundershirt 4 times already, and no panting, pacing or pooping. The key for best results is to 1- try to put the shirt on BEFORE the thunder and storms occur, and 2- put the shirt on so it's snug on them, so it feels like snuggling to them. If it's too loose it won't give your dog that same feeling, so I feel the low reviews of the shirt are really due to that reason, not the product. After a thunderstorm in full blown is not the time to try the shirt on your dog, they are already worked up with anxiety. Kenya actually loves putting on the shirt, lays calmly on the couch as if she doesn't have a care in the world, for us, that's AWESOME !
November 6, 2013
Thundershirt for dogs
We have an adopted rescue snoodle. He loves to Travel w/ us but lately has been having what seems like a panic attack when we drive over rough roads. Panting excessively, he is a mess! We stopped and bought the vest at a store and it was like giving him Valium. He immediately calmed down and was great for the rest of the trip. It does not help him with thunderstorms but I'm happy with what it does give him. He is just a little guy and anything I can do to help with his anxiety. But remember, every dog is different. I plan to use it on him on the airplane next to see if it helps with take offs and landing. Thank you!
July 18, 2013
So effective!!!!
My dog would normally cower and shake in a basement closet during a thunderstorm. With the Thundershirt, she will quietly sit with the family and seems so much more relaxed. Even the first time she didn't mind putting the shirt on. I put it on when I see a storm threatening. Some nights she sleeps in it and seems just fine.
May 9, 2013
Hooray for the Thundershirt!
Thanks to the Thundershirt, our dog is calm enough during thunder storms to lay down, and we can actually get some sleep!!! A-M-A-Z-I-N-G!! Thank you, Thundershirt!
May 8, 2013
Thundershirt
The thundershirt did not decrease anxiety in my dog at all. I returned it.
April 29, 2013
Slightly Disappointed
Got this for my grand dog who is a rescue dog with issues. He seems to like having it on, but still has issues with excessive barking. Helped him on walks on side streets, but not where there's a lot of traffic noise. Have yet to see if it will help in a storm. Hopefully, with continued use, it willl prove helpful. May help other dogs with anxiety problems as all dogs are different.
April 25, 2013
Disappointed
Unfortunately, this product does not work with my seven year old rat terrier. We've tried it now on four separate stormy occasions and it had no affect in soothing her trembling.
April 13, 2013
REALLY WORKS
My chocolate lab is afraid of everything. Before getting the Thundershirt, she would shake uncontrollably and hide in the shower during thunder storms. Fireworks would stress her out for a whole day. Now, at first sign of any storms (or fireworks) I put the Thundershirt on her and she remains calm and even goes to sleep...undisturbed. I can't endorse this enough, you MUST try it.
April 12, 2013
Related Searches:
Similar Products: