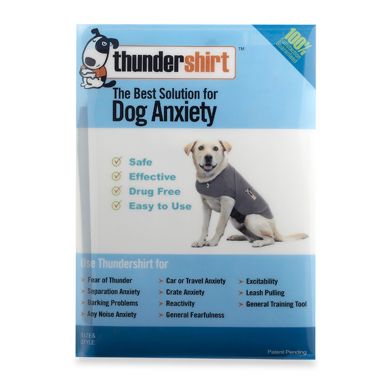 Thundershirt™ Grey Dog Anxiety Treatment Shirt
Thundershirt™'s gentle, constant pressure has a dramatic calming effect for most dogs if they are anxious, fearful or over-excited.
Utilizes pressure to relieve anxiety.
Soft, breathable dog wrap is made using 55% cotton/35% polyester/10% spandex blend and is adjustable with hook and loop fastener straps.
Hook and loop fasteners for easy strapping to your dog.
Provides a drug-free dog anxiety treatment for your pet.
Machine wash.
Imported.
Thundershirt Gray Dog Anxiety Treatment Shirt
You know sometimes we dogs get anxious, fearful or overexcited. We get scared of fireworks and thunderstorms or anxious when someone leaves us alone. We shake, pant, drool, destroy furniture, hide in bathtubs.
Fortunately there's an easy, safe and inexpensive alternative that works with more than 80% of us dogs – Thundershirt. You put it on and instantly the shirt applies a constant gentle pressure to the body.
Pressure is believed by experts to release a calming hormone which is comforting to living beings.
Thundershirt - you put it on, we calm down.
That's like a giant wearable hug that never ends.
Thundershirt is completely safe and drug-free. It's easy to use and comfortable to wear. It's available in a range of sizes to fit most every dog.
Thundershirt - the shirt that hugs your dog.
Thundershirt™ Grey Dog Anxiety Treatment Shirt
17
22
This product is great!
My dog does NOT want you to take his shirt off. I have purchased three of these shirts and each one has been improved. I will always have one for my dog.
September 15, 2014
Doesn't work for barking or nipping, have not had it long enough for testing of the other things it says it does. Do not recommend it for the price. Will work good to keep our dog warm during the cold weather.
September 12, 2014
This product is a life saver!
We rescued our 55 pound border collie German shepherd mix from the local animal shelter...whoever had raised the beautiful animal had evidentally kept her in a cage because she did not know how to react to a backyard, and was not interested in playing. We think that she as rescued from Katrina in New Orleans because when it rained, she literally wanted to climb the wall, and looked down the hall for water. As she has grown older, she is even more nervous. Someone had told us about this Thunder Shirt, so we bought one for her....she immediately laid down on the floor and went to sleep. This Thunder Shirt is the second one for Lucki, and she feels safe and secure when it is on her. We call it her "blankie" and when she wants it on, she will wag her tail, and wait for you to put it on her.
September 10, 2014
Wonderful invention!
This shirt really works! I put it on my dog on the first sound of thunder and he just immediately calms down and ignores the thunder sounds unlike before when he would get all nervous and climb all over me.
August 18, 2014
thundershirt
I was very skeptical of the thundershirt. However, my dog likes it. She likes to wear it and she stayed much more calm in the thunderstorm we had last night.
August 8, 2014
Unbelievable
My 80 pound dog would try to climb into my lap during a thunderstorm. She was terrified and tried to take my house apart. Yesterday we had our first storm since I bought the shirt. At the first rumble I put it on her. She laid down and went to sleep through the whole storm. After, she woke up and looked at me like "what did I miss?"
August 4, 2014
This product has helped my dog.
The thundershirt helped my dog get through the week of July 4 with fireworks every night. She appears to appreciate having it put on her. There have been several thunderstorms since we purchased this product and our dog was not her usual anxious, pacing self. She did not hid in the bathroom. I strongly recommend this thundershirt. Thank you.
July 30, 2014
Thundershirt
Although I have not had any thunder storms come thru since I got the shirt, I did put it on Strider when Lynn went to shoot his pistol just outside our house. He usually gets very panicky but I put his shirt on, he loves it by the way, and he was still a little nervous but it helped him alot!!!! I definitely recommend it if you have a dog that's scared of loud noises.
July 29, 2014
Related Searches:
Similar Products:
ThunderSweater™ Anxiety Treatment Dog Sweater
Price:
$59.99
Brand:
Thundershirt
Sizes:
XXSMALL
,
XSMALL
,
SMALL
,
MEDIUM
,
LARGE
,
XL
Categories:
ThunderSweater provides all the calming benefits of Thundershirt with the added warmth and comfort of a sweater. This unique petware provides a drug-free solution for fear of thunder, fireworks, separation anxiety, travel, barking, and more.
Also check out:
$4.49 Each

$3.99 Each

Clearance!

$14.99 Each

Exclusively Ours

(4 Reviews)

$11.49

Free Standard Shipping

(9 Reviews)

$12.99

Free Standard Shipping

Exclusively Ours

(17 Reviews)

$19.99 Each

Exclusively Ours

(21 Reviews)
$12.99

Free Standard Shipping

Exclusively Ours

(19 Reviews)

$12.99

Free Standard Shipping

(17 Reviews)

$10.99

Free Standard Shipping

(96 Reviews)