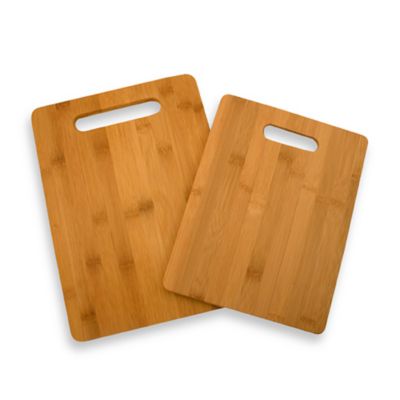 Core Bamboo™ Cutting Boards (Set of 2)
Made of durable, long-lasting renewable bamboo, it is harder than most traditional hardwoods and is sure to lend a naturalistic warmth to your parties and to your kitchen
Hand wash only and occasionally treat with mineral oil
Larger cutting board measures 13" L x 9 1/2" W x 3/8" D
Smaller cutting board measures 11" L x 8" W x 3/8" D
SKU # 15996455
Core Bamboo™ Cutting Boards (Set of 2)
14
16
Broken
I received this set for my fiancé and I's wedding shower. After washing, before using, the bigger board cracked in half. I will be taking them back to the store or contacting the company for a replacement.
May 12, 2014
great value
very good cutting boards. lightweight & easy to carry & store
January 21, 2014
Not recommended at all
The small one broke after 6 months of use, the big one after a year of use. I guess you get what you pay for.
November 23, 2013
Good product & great price
I have had these cutting boards for 2 years and they are holding up really well. They are light and easy to wash. I expect them to last 3-4 more years. For $10 you can't go wrong.
June 12, 2013
I want something that will last YEARS, not months.
I loved these cutting boards...while they lasted! We have had them for about 6 months now, and about a month ago the smaller one completely bowed. Then a week ago, the larger one got a crack in the handle. Keep in mind, we have never put these through the dishwasher. I think for the price maybe it was worth it to get 6 months' wear, but I probably won't buy the same product again. I want something that will last a few YEARS, not a few months.
September 28, 2012
Excellent Product
I own bamboo cutting boards and they are wonderful. Using bamboo is much better than regular wood and plastic. This is a great product and will last for many years. Enjoy using them and always have one ready to chop veggies, fruit, and meats.
July 15, 2012
Great cutting boards
I love bamboo, and also love that it's an easily renewable resource. I've had these boards for nearly 5 years of light use (1-2 times per week), and even though I haven't oiled them since a couple of times in the beginning (though I probably should), they've held up great. Of course they have scratch marks on them; they're not serving boards, they're cutting boards. I'll note that I only cut vegetables on any bamboo or wooden boards, not meat, because of the possibility of any raw meat juices getting into the cuts in the wood or bamboo and not washing out well. I have a glass cutting board for meat, since I can put that in the dishwasher. Although one of the handles got a hairline crack in it after the first year or two, that hasn't affected its function at all, and it isn't sharp anywhere that could be a risk for cutting yourself on it. Again, these are not serving boards, they are cutting boards, and of course they will get scratch and cut marks in them. I'll note to the reviewer below that while bamboo is an easily renewable resource, it really only is so when used in its woody form, like this. To turn it into fabric, it has to be treated with harsh chemicals, which basically turns it into rayon.
May 21, 2012
you people are crazy
They are the best cutting boards EVER! Mainly because bamboo doesn't absorb oils, like wood. Then after the oils become rancid, they can and do transfer back into the next food they're exposed to. Every kind of cutting board takes cuts, save for marble, and its sheer weight makes it dangerous to handle. Besides we LOVE the natural look of bamboo, AND the fact that it is a quickly renewed resource. We've enjoyed them so much that we've gone back for more bamboo kitchen ware. I will never go back to any of the wooden cutting boards of the past, including but not limited to maple, hard woods, even plastic or Lucite. In fact we're thinking of trying other bamboo lines such as bed sheets, curtains, towels or flooring. So take that all you scoffers - we ARE a married couple and have both cooked for decades. So we have tried them all and have arrived at the best - bamboo wins hands down.
April 3, 2012
Related Searches:
Similar Products:
Also check out:
$16.99 - $19.99
(3 Reviews)

$19.99

Exclusively Ours

(2 Reviews)

$29.99

Beyond Value

Great Value

(13 Reviews)

$9.99

Beyond Value

(30 Reviews)

$8.99

Beyond Value

Exclusively Ours

(6 Reviews)
$19.99 - $29.99

Exclusively Ours