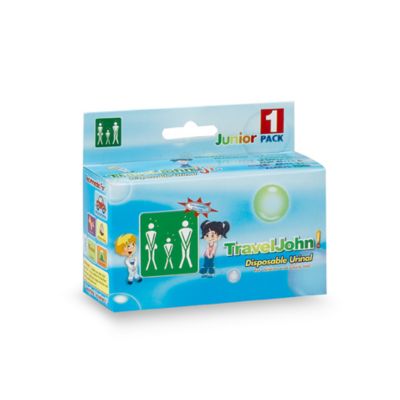 TravelJohn™ Disposable Urinal (1-Pack)
Inside is a LIQSORB® pouch that absorbs, deodorizes and disinfects while it solidifies liquids instantly into an odorless spill-proof gel that doesn't leak.
A built-in spill guard prevents backflow during use, and a volume indicator lets you know how much free space is left in the pouch, which has a maximum capacity of 20-ounces.
A unisex plastic adapter makes it easy for anyone to use the pouch sitting or standing.
SKU # 15016396
TravelJohn™ Disposable Urinal
1
2
Portables
The Travel Johns are great on the go items for boys and girls. I use them for my 6 year old daughter when we go to amusement parks. She is very short and can't squat over the toilet. The guard on the bag is a great feature.
May 5, 2014
Related Searches:
Similar Products: