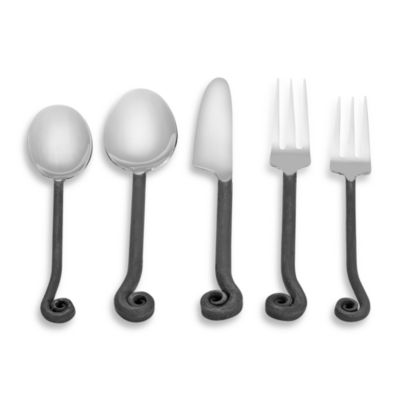 Gourmet Settings Treble Clef 20-Piece Flatware Set
20-piece set includes 4 each of the following: dinner fork, dinner knife, salad fork, soup spoon and teaspoon
Hand-made of 18/10 stainless steel
Blackened, tightly corkscrewed handle-grips
Dishwasher safe
SKU # 10877350
Gourmet Settings Treble Clef 20-Piece Flatware Set
11
12
LOVE IT!!!
Love this product!!! These are so whimsy and different. Would definitely recommend.
June 23, 2014
LOVE THEM
These are excellent. We originally purchased these to use for small events where we need to pack a small picnic.... however, we are contemplating replacing our current flatware with it!!!!
June 23, 2014
Not for little mouths
I found this to be very heavy duty flatware, love the design, size and weight. This is not for little mouths though, even the "small" spoon and fork are pretty significant in size, although the handle is not as thick as the larger spoon, fork and knife. I am very happy with the look and feel of this set, very sturdy!
October 30, 2013
Unique Iron flatware
This flatware is heavy duty and unique. I plan to use for it an outdoor dinner party, with a nautical theme. The price here was lower than amazon, plus I used my coupon. I ordered it at the store using the coupon and it was shipped to my house pretty quickly
July 18, 2013
Great looking flatware
My family rented a cabin in Western NC a year ago and this was the flatware that was there. We all loved it and had fun trying to track it down on line. So glad it was easily obtained - our store doesn't carry this style flatware, but the on-line order process with Bed Bath and Beyond is easy and it arrived in a few days. Good looking and "fits" well in your hand. Unique and perfect in our rustic style home.
May 20, 2013
Awesome set
I love this flatware.......it is heavy and very unique. The only thing I do not like about it is the spoons are too big. I have put them in the dishwasher and they come out beautiful. If you purchase them you will not be sorry!
May 1, 2013
"Spanish" style awesome!
I bought them to match the curled wrought iron all in my house. The only thing is that Bed Bath and Beyond is out of the serving set, and I had to buy that from the manufacturer that also has matching shrimp forks and tiny little coffee stir spoons. So you have to get those from the Manufacturer. But they have plenty!
November 1, 2012
This was a gift for my daughter; she will be moving into an apartment while attending school. She had seen this pattern in a VT sandwich shop and fell in love with it. The owner told me where to purchase it. She is very happy to have the set, especially since she loves music and plays the violin. It handles well and is very comfortable to use.
April 11, 2012
Related Searches:
Similar Products: