Fire & Flavor™ Turkey Perfect Herb Blend Brining Kit
This herb blend brining kit is the perfect solution for adding big flavor to your turkey. Kit includes one brine mix containing rosemary, thyme, sage, and marjoram, and a large brine bag for a 25-lb. turkey. Helps create juicy tender turkey with crisp golden skin every time. Brine mix is all natural, kosher and gluten and nitrate free. Easy instructions included.
SKU # 16786748
Fire & Flavor™ Turkey Perfect Herb Blend Brining Kit
9
9
Excellent Mix
I have smoked turkey for several years. I sometimes make my own brine recipes, however "Fire and Flavor" is a prepared brine that I have used, most recently this past Thanksgiving, and with great success. Always moist and full of flavor. Any leftover makes a great tasting chili or sandwich spread..
November 27, 2012
Flavorful moist turkey!
Not only was my turkey moist and flavorful, but when I used the carcass to make turkey soup.....WOW!! I didn't have to add any salt and the herb flavors really popped. I do want to mention that I did rub my bird with a fresh herb butter (butter with chopped sage, thyme and rosemary) between the skin and the breast as well as all over the skin before baking. The brine mix was kind of expensive, but considering that the leftovers are so yummy instead of ho-hum, I think it's worth it.
November 25, 2012
only way to cook a turkey
used the brine last year and it was the best turkey we have ever eaten. will never be without it.
November 15, 2012
Best Turkey Ever!
I've brined a turkey before but bought the ingredients separately. Last year I wanted to save time and was looking for something pre-packaged. I came across this brine in the store. After looking at the ingredients I decided to give it a try. Best Turkey Ever! Both my husband and I have large families. We had about 30 people for Thanksgiving and everyone raved about the turkey, even the seasoned cooks in the family! Will definitely do it again!
November 2, 2012
Turkey with flavor and super easy!
I would recommend this to EVERYONE! It was amazing! My husband hates turkey because it has no natural flavor. He even loved the turkey. Its really easy and the turkey comes out full of flavor.
November 30, 2011
A total hit!
I used this brining kit last year for Thanksgiving (18 guests) and I had so many compliments on the flavor and texture of the turkey. I was in Kuwait at the time and having a nice traditional Thanksgiving dinner was really important to all of us. This was a hit! I had never brined a Turkey before-could not find any stuffing mix (other than stove top) so I am glad the turkey came out so well.
November 11, 2011
So delicious!
I had never brined a turkey before, but I will from now on! This was the best turkey I have ever had! Even my husband bragged about how good it was. Usually I don't enjoy leftover, bland turkey, but I loved it cold too. No wasted turkey this year!
January 6, 2011
Turkey Herb Brining Kit
Used this for the first time on a fresh turkey and it turned out wonderfully! Both light and dark meat was juicy and flavorful, the herbs made the house smell great while the turkey was cooking, and all my guests said it was the best turkey in years. Will definitely use this for next year's Thanksgiving turkey!
November 30, 2010
Related Searches:
Similar Products: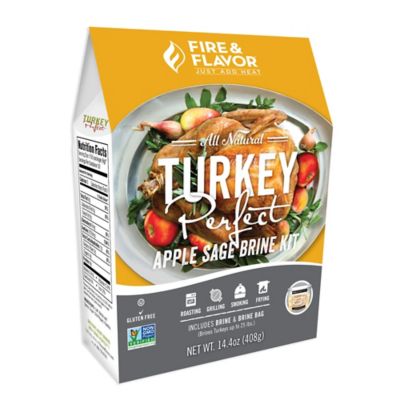 Fire & Flavor™ Turkey Perfect Apple Sage Brining Kit
This apple sage brining kit is the perfect solution for adding big flavor to your turkey. Kit includes one brine mix containing dried apples, cranberries, sage, and other holiday herbs, and a large brine bag for a 25-lb. turkey. Helps create juicy tender
Also check out:
$129.99

$50 Bonus Gift card with $300 Calphalon Purchase

(15 Reviews)
$24.99 - $29.99
(54 Reviews)

$6.99

Beyond Value

Exclusively Ours

(6 Reviews)

$9.99 - $49.99

Exclusively Ours

(45 Reviews)

$19.99 Each

Beyond Value

Exclusively Ours

(31 Reviews)

$29.99 - $44.99
(34 Reviews)

$9.99

$6.99

Clearance!

(1 Review)