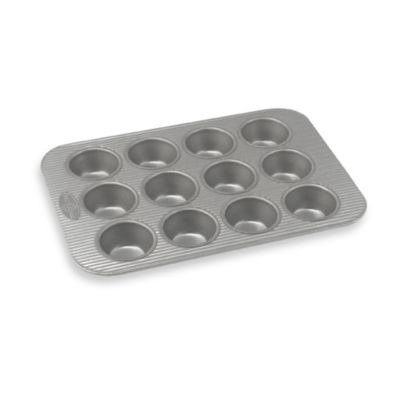 USA Pan Non-Stick 12 Cup Muffin Pan
Bakeware is coated with Americoat, a clear, nonstick, environmentally friendly coating that is formulated for superior baking and does not contain any PTFE's or PFOA's.
Oven safe up to 450°.
Hand wash only.
Made in the USA.
SKU # 16941441
USA Pan Non-Stick 12 Cup Muffin Pan
7
7
love it!
These are the best pans!! They are heavy duty, they cook evenly and the clean easily! I have gotten them all and recommend them to everyone!
April 28, 2014
Best Bakeware
Once you own one of these pans, you will never buy another brand. They are heavy and bake well, plus they are easy to clean.
April 14, 2014
USA Pan Non-Stick 12 Cup Muffin Pan
OMG! These are the best EVER muffins pans! I no longer need to use those dratted paper cups. I often make mini-breakfast pies. In these pans my pies just fall out, ready to eat. Just bought one of the small loaf pans with the same results and will buy another soon as I get to a store!
November 1, 2012
Usa muffin pan
Highly recommend this made in America pan. No Teflon, incredible that it works without spray. Won't ever have to,buy another.
October 25, 2012
USA Pan Non-Stick 12 cup Muffin Pan
I love the USA made all steel bakeware. The baking is more even and clean up with this brand is a breeze. I am in the process of replacing all my bakeware with the USA made products. LOVE IT !
August 9, 2012
Best Muffin Pan EVER!
My muffins and cupcakes come out perfect every time - evenly baked and clean up couldn't be easier. I won't buy any other brand of bakeware from now on!
May 7, 2012
Alittle on the heavy side, but will not warp. I would do away with my microwave or toaster, before getting rid of this bakeware.
September 3, 2011
Related Searches:
Similar Products:
Also check out:
$14.99

Exclusively Ours

(13 Reviews)

$5.99

$50 Bonus Gift card with $300 Calphalon Purchase

(11 Reviews)

$14.99 - $15.99
(1 Review)

$9.99

Beyond Value

(29 Reviews)