Umbra® Bamboo Shower Caddy
Measures approximately 27 4/5" x 11 4/5" x 5 1/5" and fits a standard 1/2" shower arm
One-year warranty
SKU # 14839437
Umbra® Bamboo Shower Caddy
16
17
I can't even use it.
Don't buy this unless your shower head is long enough. Mine doesn't have a long enough "neck" so the shower head just sprays the top shelf of the caddy.
October 28, 2014
good features
great style but could use a bigger or better suction cup to hold it to the shower wall
September 22, 2014
Love it!
Even though I didn't want to pay $40 for a shower caddy, I'd searched far and wide for a caddy with enough room and height to accommodate my family's various shampoos and bottles and what-not. This fit the bill to a t and holds so many bottles. After reading the reviews about the bamboo and doing a little googling, I decide to apply two coats of polyurethane to the bamboo part to be extra safe. Of course, who wants to have to do something to a product - it should come fine as is - but in this case, I liked the caddy so much and the dimensions were perfect, so I didn't mind that much, and it was easy. Water seems to glide off the thing. So far, very happy with this!
August 3, 2014
Almost Awesome
I loved the aesthetics of this caddy. It seemed so much less bulky than most. The chrome started rusting within less than a month. Thats a huge bummer. It is perfect aside from that. It works better than some. I use it in my stand up shower. Most seem to slide down when you take something off of them but no this one. It is engineered great. I wish there was just a way to stop the rusting.
July 5, 2014
This made our shower!
We have had this for 4 months now, and it's held up perfectly so far (fingers crossed!). It made our shower feel like a spa, and is so much nicer than any shower caddy I've ever owned in the past. I also like how much room there is for various shampoos, soaps, scrubs, etc (my fiance even gets his own shelf - or at least half of one).
February 20, 2014
LOVE IT!
I just received this shower caddy a few days ago and I love it!! I am currently renting an apartment, and I guess the shower head pipe is a little larger than most, because the caddy keeps falling off the pipe, so I currently have it hanging on my curtain rod. I'm sure a newer shower head would allow this to work better. It does have a gripper around the hook, but like I said, my pipe is too large for this to be secured around. The quality is excellent and it holds so many things!
February 18, 2014
Save your money
I purchased this for me for my master bath. I love bamboo and wanted it in my bathroom. A couple weeks after I purchased it the rubber grip slipped and it would not stay attached. It started rusting and the bamboo started to show water damage.
January 6, 2014
Best one found...after mounting modifications!
This is a smart and good looking shower caddy... especially when revised to fit over the shower rail/door AWAY from all the water! In this age of info and innovation it ceases to amaze me that shower caddies are still so poorly designed that leaves few choices. That most hoses & controls are in the wrong place make it unusable is nothing compared to the scum, rust, mold that is a result of being right under running water... which we are even warned/advised AGAINST! And if that's amazing, why are all the modern over-door caddys at least $200???
September 15, 2013
Related Searches:
Similar Products: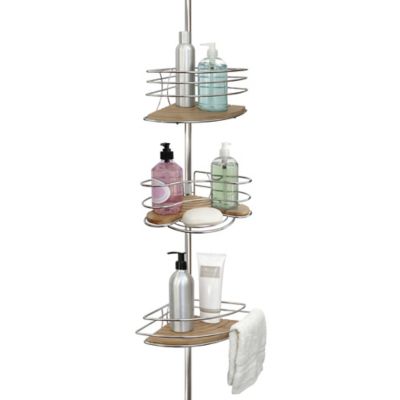 Tension Pole Shower Corner Caddy in Bamboo/Chrome
Price:
$69.99
Brand:
Better Sleep
Categories:
Bed & Bath > Bath Organization & Furniture > Bath Caddies
Tidy up your shower area with the Tension Pole Shower Corner Caddy in Bamboo/Chrome. Designed with convenient, adjustable shelves, this easy-to-install caddy lets you organize your bathing products and keep the essentials within easy reach.