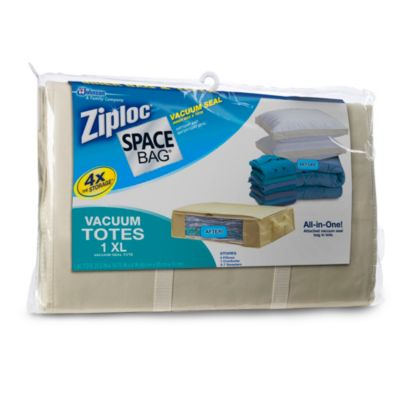 Ziploc® Space Bag® Under Bed Space Bag® Storage
The outer tote has handles for easy lifting and a see-through window to identify contents
Space bag is mildew resistant
Measures 25 1/2" L x 19 3/4" W x 6" H
Holds up to one bedding set, two pillows, plus five to seven sweaters or jackets
SKU # 13580227
Ziploc® Space Bag®
Ever feel like you have way too much stuff and not enough space? Well Ziploc helped me turn this into this with Ziploc Space Bag. Just pack your items, seal the Ziploc Space Bag double zipper and vacuum out the air through the valve. Use Ziploc Cube Bags for bedding and Ziploc Flat Bags for clothing. You can triple your storage space. And it's easy to store your things almost anywhere.
Ziploc Space Bags are a smart solution to cluttered closets of all sizes and a better choice than plastic bins. Bins take up too much space and the lids can break or get lost. Ziploc Space Bags are airtight and watertight so you can safely store your stuff almost anywhere, even in the basement or garage knowing it will protect against moisture, bugs and mold. Your things come out fresh and clean as the day you packed them. And Ziploc Space Bags are reusable. They keep my favorite sweaters safely stored season after season after season. Plus they're great for moving and for small spaces like apartments or dorms.
There's a variety of sizes to choose from. Medium and large flat bags - great for kid's clothes and easy storage. Jumbo and extra large flat bags for sweaters and larger clothing. Plus we also offer high-capacity cube bags for bedding and larger items. And Ziploc Space Bag now introduces a new fresh scent product with a touch of lavender so everything smells clean and fresh. Save space with Ziploc Space Bag products exclusively for Bed Bath & Beyond. Available in-store today.
Ziploc® Space Bag® Under Bed Space Bag® Storage
14
14
Great value!
This fits tons of blankets/comforters/etc and I love that it comes in an underbed storage box. The box alone is worth the price! I can see how if you overfill it, it might leak and cause a problem, but it has a fill line, so stick to it!!!!
April 22, 2014
Just what I needed
This is great to organized you winter cloths from you summer cloths. Need to buy more!!!
October 23, 2013
I can not live without it
I love this under the bed space bag. I fit 2 mattress covers, 3 sheet sets plus a comforter and it still fits under the bed. The only issue is if it is over stuffed it will rip and leak but I over stuff it. Even though it did not keep the air out it was still useable and fit under the bed thanks to the locking straps. Just vacuum out the air and than close and tighten the locking straps as fast as you can before air seeps back into the bag. It is easier than it sounds. This tote lasted me a few years of over stuffing before the bag just ripped right out of tote. But tote is still useful, I save all of my sons artwork and projects from school, so I just toss them in the tote and hide it away under the bed. This product is well worth it. I recommend giving it a try.
October 19, 2013
LOVE IT!
These bags work great. Just don't overstuff. Handles tear if too heavy.
June 15, 2013
space bags
I think these are wonderful. My only complaint is they often leak within hours. And, the clip used to shut the bags fall off.
April 4, 2013
amazing
I was a little hesitant at first after reading some of the reviews. But i took a chance anyway. I have one word to describe these space bags 'AMAZING'. They really do what they suppose to do. they are really great. anyone who reads my review I promise it works just pack them correctly make sure there is no air leaks if there is just squeeze the zipper together and your done, but remember never over pack them.
November 14, 2012
Have issues
Some were great and some leaked very soon causing a big problem getting them back out from under my bed! They were flat when I slid them under and then they reexpanded and were too full to pull back out. A few of them stayed vacuumed fine! Very frustrated they ALL didn't keep their vacuum!
June 6, 2012
Sprung a Leak
I have several different sizes and the extra large all leaked. The hanging ones however, are still intact after 2 weeks. I will be taking the others back. I don't believe the seams are sturdy enough. Also on the hanging bags, it says to put in 10 items, but 6 jackets were all I could do. Please improve these as I love saving space.
May 13, 2012
Related Searches:
Similar Products:
Also check out:
$59.99

Beyond Value

(37 Reviews)

$29.99

Beyond Value

(77 Reviews)

$14.99

Beyond Value

(38 Reviews)

$19.99

Beyond Value

(49 Reviews)

$29.99

Beyond Value

(6 Reviews)

$29.99

Beyond Value

(14 Reviews)

$5.99

Beyond Value

(17 Reviews)