Personalization is required to add item to cart or registry.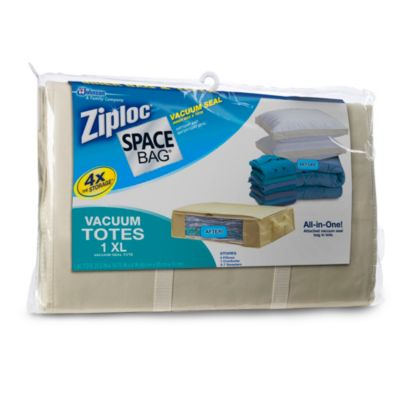 Ziploc® Space Bag® Under Bed Storage
Similar Items
The item you viewed above is out of stock. We also suggest:
The outer tote has handles for easy lifting and a see-through window to identify contents
Double zipper airtight and watertight seal
Space bag is mildew resistant
Measures 25 1/2" L x 19 3/4" W x 6" H
Holds up to one bedding set, two pillows, plus five to seven sweaters or jackets
SKU # 13580227
Ziploc® Space Bag®
Ever feel like you have way too much stuff and not enough space? Well Ziploc helped me turn this into this with Ziploc Space Bag. Just pack your items, seal the Ziploc Space Bag double zipper and vacuum out the air through the valve. Use Ziploc Cube Bags for bedding and Ziploc Flat Bags for clothing. You can triple your storage space. And it's easy to store your things almost anywhere.
Ziploc Space Bags are a smart solution to cluttered closets of all sizes and a better choice than plastic bins. Bins take up too much space and the lids can break or get lost. Ziploc Space Bags are airtight and watertight so you can safely store your stuff almost anywhere, even in the basement or garage knowing it will protect against moisture, bugs and mold. Your things come out fresh and clean as the day you packed them. And Ziploc Space Bags are reusable. They keep my favorite sweaters safely stored season after season after season. Plus they're great for moving and for small spaces like apartments or dorms.
There's a variety of sizes to choose from. Medium and large flat bags - great for kid's clothes and easy storage. Jumbo and extra large flat bags for sweaters and larger clothing. Plus we also offer high-capacity cube bags for bedding and larger items. And Ziploc Space Bag now introduces a new fresh scent product with a touch of lavender so everything smells clean and fresh. Save space with Ziploc Space Bag products exclusively for Bed Bath & Beyond. Available in-store today.
Related Searches