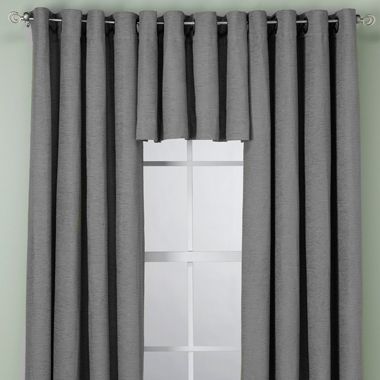 Union Square Valance
53% cotton/32% polyester/15% acrylic.
Panels are sold individually and measure 54" W.
Valance is sold separately and measures 54" W x 18" L.
Machine wash.
Imported.
Product is defective
I originally ordered two of these Union Square Valances in Platinum and two 63" curtain panels for one of my windows. I was very pleased with this order. I decided I needed a third valance to make the two I already had look fuller. When I installed the third valance, it was uneven. One side was longer than the other, so none of the valances line up in a straight line along the bottom. I am now going to have to take this valance to a seamstress to have it repaired, which of course, is going to cost me alot more than I originally paid for it.
July 31, 2014
union square 84" panels
I'm unhappy with panels. One is longer than the other. Now I have to return them and hope to get the same length. I now have to raise the rods.Thatmeans moer holes in my newley painted walls. Not too happy about that.
July 30, 2014
Good choice
Perfect for what we wanted. We also have the side panels and tied them back with gold tassles. The fabric holds its shape so the folds hang perfectly straight.
July 30, 2014
No 2 pieces are the same length
I bought 3 of these in the store and when I hung them up, all 3 hung at different lengths, differing by as much as an inch from one end of the valance to the other. But, none of the ends matched up in length when hung side by side. So, I ordered 2 more of them, thinking that I should be able to get them to match at least one of the ones I had. Well, they were different too. Luckily, I was able to make 3 of them work close enough that you can't tell, but for the price, I would think they could make them consistent. I also have 2 of the matching panels, and I like them. The quality of the material is good.
November 27, 2013
Love the Panels
They were what I was looking for, however they are advertised as 84" and mine only measured 82". They are short for my window.
July 15, 2012
Updated Drapes
Wanted to update my living room a little so bought valances and drapes. Everyone comments how nice they look. I hemmed the valances because I felt they were too long for the window. They really did the trick and look fresh and contemporary.
April 19, 2012
Love em!
I got 2 pair of these to dress up patio doors with vertical blinds. Also 8 pairs of drapes for 4 windows all in khaki color. Didnt wash them...just ironed on cotton setting and used lots of steam to get wrinkles out. They look great... simple but classy! Very happy with my purchase!
December 7, 2011
Check the lengths first
I love the fabric, texture, color and cost. I purchased my panels in the store and valances online. The fabric was easy to iron out creases. After hanging the valances, it is obvious that two of the six I purchased are longer than the others. It is too much trouble at this point, since they were purchased weeks ago to send them back. I don't have my receipt any longer and it took a lot of effort to hang them myself. I would have to get them back down, take them to store and start all over again. Be sure to check length of valances before hanging them.....
June 2, 2011
Related Searches:
Similar Products:
Also check out:
$29.99 - $29.99
(5 Reviews)

$29.99 Each

Exclusively Ours

$22.99 - $79.99
(56 Reviews)

$32.99 - $89.99
(83 Reviews)