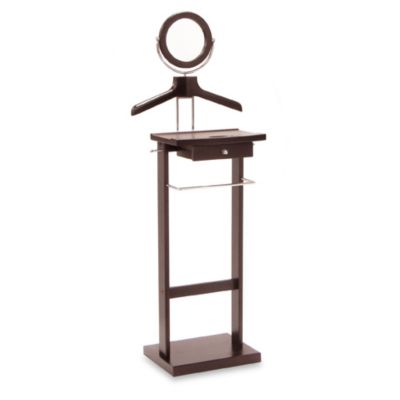 Valet Stand with Mirror and Drawer
Valet offers an easy way to organize suits, dress shirts, shoes and accessories while keeping them within reach.
Features a coat and shirt hanger, tie/towel bar, drawer for storage and a mirror.
Easy assembly with included tool.
Measures approximately 54 3/4" H x 19 4/5" W x 15" D.
Wipe clean.
SKU # 14819827
Valet Stand with Mirror and Drawer
7
7
Very good product
It's a good buy for the price, especially considering the other options out there. I looked at least 100 others and settled on this one. It's pretty sturdy despite the composite wood and the finish is convincing. The only drawback, which I knew going into the purchase from other reviews, is that there is no stopper for the drawer so it easily pulls all the way out, which can getting annoying over time. Hardware stores sell stoppers that makes this problem a quick fix so don't let that deter you. I'd certainly recommend this product.
September 15, 2014
Great gift idea!
I purchased this valet to give as a house warming gift for a close friend whose husband is a cop. She had commented several times about how all his cop gear, badges , etc were laying on the bed in a spare room. He was so excited when he put it together that he sent a picture of it. All of his cop gear is organized and quickly accessible and my friend loves that it's no longer laying around. Think his partner is going to order one as well.
September 13, 2014
Nice, practical, ergonomic
Nice piece to help kept the bedroom neat and avoid mess
September 10, 2014
Very nice!
I bought this for my husband for Father's Day. With coupon and free shipping, excellent value. Came carefully packaged and sooner than promised. Quality was also higher than I expected. Sturdy, handsome--real wood, nice metal pieces and mirror. Was very easy to assemble. Only complaint I have is that the color is much darker than pictured--almost black--but in all fairness, color is called "espresso." Husband was polite, but was not very excited. It was not something he had asked for or was expecting. Hasn't touched it two weeks later. He is one to leave items in many places, making him consistently late for work. I was hoping that he would see how nice it would be to be organized and to find all of his things in one place each morning. Oh, well, if he doesn't use it, I will! My adult son seemed interested and I will consider buying one for him in the future. Maybe I can train my husband if I consistently leave treats in the drawer? LOL.
June 23, 2014
Great gift!
My husband was constantly leaving his clothes on the floor at night. He always picked them up in the morning, but at night, the bedroom floor was a mess. This beautiful valet stand was just the right idea for him as a Christmas gift. I ordered through the store, it came in a few days, was easy to assemble and looks great with our other furniture. I might purchase again to give as a gift to my sons!
January 2, 2014
Easy to loce product
This is a great Valet Stand. The only complaint is that the drawer slides out all the way. It should have some sort of drawer stop. The mirror came broken on mine but the company shipped me out a new replacement and everything looks and works great!
March 21, 2012
great gift
my guy LOVED it. never would've asked for it but great gift - he uses it daily to prep his military uniform.... even has a drawer for his badges, etc.... we lost this in our house fire and its one of the things we're definately replacing...
October 5, 2010
Related Searches:
Also check out:
$59.99 - $69.99
(2 Reviews)

$19.99

Beyond Value

(22 Reviews)

$11.99

Free Standard Shipping

Exclusively Ours

(7 Reviews)

$6.99

Beyond Value

Exclusively Ours

(6 Reviews)

$10.99

Free Standard Shipping

(9 Reviews)