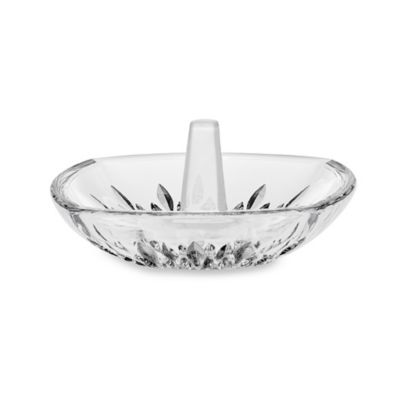 Vera Wang Wedgwood® Duchesse Ring Holder
Measures 1 3/4" H.
Hand wash.
SKU # 16456586
Vera Wang Wedgwood® Duchesse Ring Holder
5
6
Insanely Gorgeous Ring Holder!
I am completely and totally in love with this ring holder! I understand ring holders are a whatever type of item that just lays around your house but it holds one of your most valuable possessions, your wedding ring so it might as well be just as beautiful and gorgeous as your ring... this is definitely the ring holder with any bride-to-be or wife! I bought this for a friend and she was so excited when she pulled it out and could not get over how gorgeous it was. I was so in love with it, that I bought one for myself and now give them to all my friends who are newly engaged! It's the perfect gift and they will not be disappointed! A little pricey, but worth every penny! The picture does not do it justice! HIGHLY RECOMMEND!
March 23, 2014
Beautiful
I just received this as a Valentines gift from you husband. He is very practical but this time it really paid off. This piece is beautiful and just what I needed!
February 14, 2013
Beautiful piece!
I received this as a gift at my bridal shower, as my bridesmaids have all given eachother a ring holder of some sort to eachother. It is elegant and beautiful. Great gift! :)
July 3, 2012
GREAT BUY
I purchased this for my future daughter in law to keep her ring on when she wasn't wearing it. It is very delicate looking and unique in the fact that it is square with rounded corners rather than the typical round shape. I would recommend this to anyone considering to purchase a ring holder.
July 13, 2011
Love this!!
I received this from my wedding registry. It is so elegant and beautiful, must be displayed!
November 22, 2010
Related Searches:
Similar Products:
Also check out:
Twin $49.99 - King $69.99
(1 Review)
2 Piece Set $64.99
(5 Reviews)