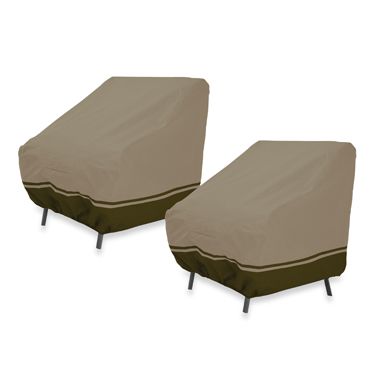 Villa High Back Patio Chair Cover
Fabric is solution dyed for exceptional fade resistance.
Handles allow for easy fitting and hassle-free removal.
Elastic corners and straps that tie around the legs secure the cover on windy days.
Air vents reduce interior condensation and wind lofting.
Standard fits standard patio chairs with backrests up to 20" H.
Standard measures 31" L x 28" W x 27" H.
High back fits high back patio chairs with backrests up to 27" H.
High back measures 35" L x 28" W x 35" H.
100% polypropylene.
1-year warranty.
Imported.
SKU # 18061201
Villa High Back Patio Chair Cover
4
4
Perfect for a great price
I am very happy with these covers. They are a good fit and actually have extra room to sit on the chairs with the covers on if we are dirty from working in the garden.
September 8, 2014
Villa High Back Patio Chair Cover
Love them. Water repellent, sun resistant and attractive to look at.
July 30, 2014
Falls apart in a less than 3 months
This product does not work in Texas. I put these on my chairs in March 2014 and by the first week in June the material was beginning to dissolve on top. they received sun in the morning only and were in shade from 1pm on, but they still feel apart. Love the handle in the front, but hate they didn't work. The top part actually dissolved into a dust causing it to fall away from the chair and land on the ground. Bed, Bath, and Beyond refunded my purchase price and I purchased different covers. Don't buy these.
July 17, 2014
Villa Hight patio Chair covers and barbeque cover
The covers are very nice and seem sturdy however, they are not the color that is shown on your website. They are more green with darker green at bottom than tan with brown. It is ok for us but you need to take new pictures to put on the site.
June 9, 2014
Related Searches:
Similar Products: