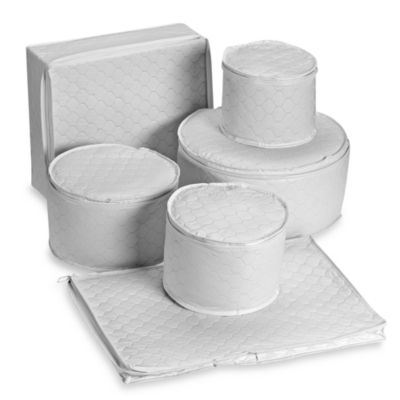 Vinyl China Protector Starter Set
Set includes:
7" saucer plate case
8" dessert plate case
9.5" salad plate case
12" dinner plate case (all with cushioned dividers)
Platter case that measures 18" x 12" x 1" and includes foam dividers
Cup chest that measures 4" x 11.5" x 13.5" and comes with chipboard dividers.
It also features self-correcting vinyl zippers and all the chests are top-loading for easy access.
SKU # 10208386
Vinyl China Protector Starter Set
11
12
Vinyl Protector starter set
For the price, this set included a lot of covers. The protectors that go between the plates could have been twice the size, but worked okay for the smaller pieces of china. Overall, I'd buy them again,
September 15, 2014
Exactly what I was wanting
Thank you for responding to my order promptly. The product is exactly what I was hoping for. My china is all now nicely stored in the quilted containers and I feel they are safely protected and organized for frequent use.
August 4, 2014
We got this product off of our wedding registry. I was a little disappointed because our salad plates do not fit, but the other parts of our china set.
February 9, 2014
Vinyl China Protector Set
T his was a great deal and was the only one I could find that had cup holders. Have been using something like this for years and needed a new one. It did not have a protector for soup bowls. The manufacturer should consider a holder for soup bowls. Otherwise, this was perfect purchase.
November 13, 2013
Very thin material, zippers break easily
I have had to store china over the years, and recently purchased this product because the cost was reasonable. Do not purchase this product if you need it long term. After packing up most of my china, the zipper broke when storing a small bowl. I did not stretch it or anything, it simply split apart at the seams. I am unpacking my china and returning this product.
September 22, 2013
Excellent Starter Set
I was weary at first before buying b\c it was only $20,but once I bought it, I was extremely happy with all its components. I was just looking for something to protect my large China collection from dust while stored in a cabinet. This set also comes with the dividers that you can place between each plate and etc. As another review said, the cup dividers are small, but I only have espresso cups/small Turkish tea glasses, so it fit perfectly for me. For the price, it is a great value.
August 6, 2013
Too Small for Cups
Everything is undersized. Normal size cups did not fit. Poorly & cheaply made. I should have spent more for a better product.
January 7, 2013
Good purchase
Was looking for a basic set to store our Christmas china in. This set could have used a little extra padding but as our set was going in a cabinet anyway it was great for us. We have an 8 piece set and the teacups were a tight fit but hey they fit and because we didn't need all the 12 spaces we also fit noir gravy boat in it too. We put a platter and 2 vegetable bowls in the platter case. The set does not have a case for bowls but because we only have an 8 piece china set we fit 4 bowls in with our dinner plates and 4 bowls in with the salad plates. Eventually we will buy another of this storage set as we expand our china set which will give the bowls their own storage too.
January 6, 2013
Related Searches:
Similar Products:
Also check out:
$9.99

Beyond Value

Exclusively Ours

(1 Review)

$14.99 - $49.99
(27 Reviews)

$29.99

$50 Bonus Gift card with $300 Calphalon Purchase

(7 Reviews)